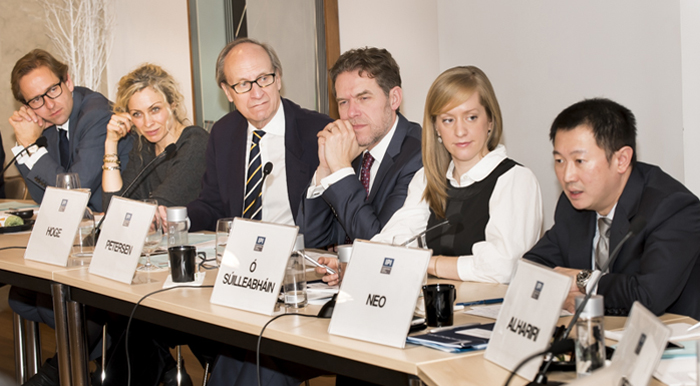 Despite their size and limited resources, small states have an important and crucial role to play in the multilateral system and can leverage their power through cooperation.
This was the main message of a roundtable discussion held at IPI on December 9th on the topic of "Size and Influence: How Small States Influence Policymaking in Multilateral Arenas." The event, hosted jointly by IPI and the Permanent Mission of Denmark to the United Nations, gathered experts and small-state diplomats to assess the opportunities, as well as the challenges, that small states face in the international arena.
Ib Petersen, Denmark's permanent representative to the United Nations, praised the multilateral system and noted how, for small states like his own, the international arena is the ideal venue for advancing national priorities in a cooperative and constructive way.
"Why is it that we want to have influence?" Mr. Petersen asked. "That's basically because we have a very strong interest, being a small state, in an open economy and an open trade system." It is only in such a functioning global system, he said, that small states can realistically bring their concerns to international attention.
The event was also an opportunity for some of the participants to present the findings of recent research on the topic. Jens Ole Bach Hansen and Maria Nilaus Tarp, authors of a Danish Institute for International Studies report on the topic, and IPI's Andrea Ó Súilleabháin, author of the IPI publication Small States at the United Nations: Diverse Perspectives, Shared Opportunities, discussed their findings and how these relate to the work of small states in international settings. According to the authors, the nature of today's global system is such that small states can and do have an important role to play.
"The meaning of power has changed," said Mr. Bach Hansen, counsellor at the Permanent Mission of Denmark to the UN. "In the past, we talked about hard power; today, power is something that we all have to exercise when we have to address common global challenges." And in a multilateral world, he said, solutions need to be found through the multilateral system with the use of soft and smart power. The added value of small states, the panelists noted, is their perceived impartiality, which often allows them to adopt the right type of political leadership that can bring change in the global arena. "Some power lies with those who can…convince others that addressing a particular issue is a shared interest and not just a zero-sum game," Mr. Bach Hansen said.
Small states are ideally poised to do just that, the panelists noted.
"Because we have no recourse to unilateralism, moderation, reasonableness, cooperation, consultation, and compromise come naturally to us," said Mark Neo, deputy permanent representative of Singapore to the UN. "These are all the qualities of a good bridge-builder and a good moderator."
And according to Ms. Ó Súilleabháin, policy analyst at IPI, small states can claim a long track record of working together. "Small states are excellent multilateral players," she said. "[They] can work swiftly and are experienced at working through multiple groups and developing networks."
And the UN, the quintessential seat of global multilateralism, is where small states have established most of this track record.
"The UN simply wouldn't work without the critical support of a selected few nations—and I am decidedly not talking about the great powers," said IPI Senior Adviser for External Relations Warren Hoge. "I am talking about a shortlist of nations that seem to have a vocation for the kind of multilateral cooperation that the UN is ideally supposed to embody," he added.
But while the qualities and inclinations of small states are a model for effective multilateral cooperation, the reality is that there are important limitations to how much small states can actually achieve.
For instance, although small states make up the vast majority of the UN system, their vote still counts as one out of 193. This means that effective negotiation is a must, a point underscored by Mr. Petersen. Also, given the limited amount of resources they have, small states need to focus on building strategic partnerships and alliances. Often, this means finding new ways of working effectively within the UN system itself.
"[Small states] need to identify areas where national priorities and the UN's comparative advantages overlap," said Ms. Tarp, the deputy head of the Department for Public Diplomacy, Communication, and Press at the Danish Ministry of Foreign Affairs. To cite an example, Ms. Tarp pointed to the UN's strength in the peace and security and green growth agendas. It is in areas such as these that small states should invest their time and resources, she said.
Mr. Neo reminded the audience that small states are not indispensable.
"Small states do not provide any essential service to the international system," he declared. "We can disappear overnight and the world will find a way to carry on."
He added: "Every stupid idea of a superpower has got to be taken very seriously, but every brilliant idea of a small state can be safely ignored if inconvenient to big powers." This also means that small states are aware of their limitations and that they are able to work with and around them, he said.
"They have…no illusions about the reality that faces them in the global order."
Mr. Hoge moderated the conversation.
Watch event: