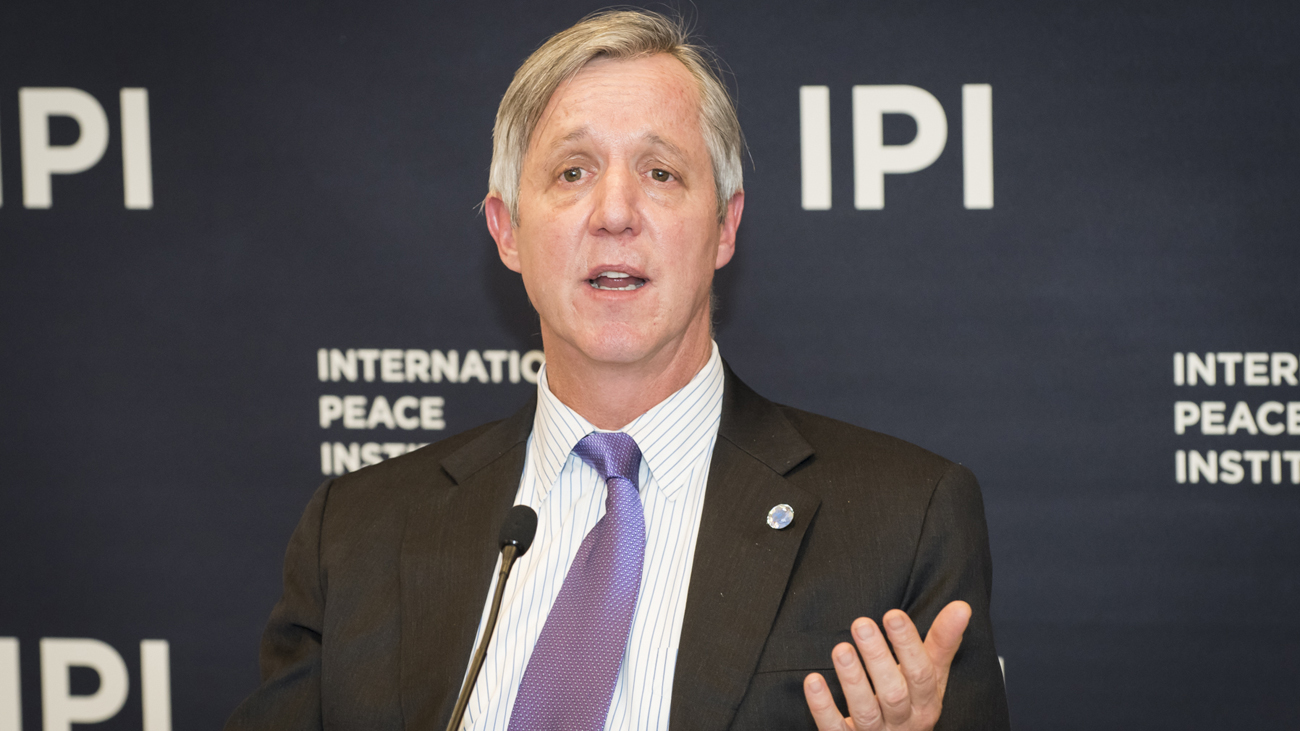 Anthony Banbury, the just-departed head of the UN Mission for Ebola Emergency Response (UNMEER), told an IPI audience on February 3rd that Secretary-General Ban Ki-moon played the "critical role" of mobilizing the global response to the Ebola outbreak in West Africa last fall.
Discussing "Ebola and the UN's First Emergency Response," Mr. Banbury—who until January 3rd was the head of the UN's first-ever emergency mission—said everything about the mission was unique: the crisis itself; the fact that the mission was the first to have all UN agencies under its direct authority; and the fact that it was working in four different countries simultaneously.
But above all, he said it was unique because of the global consensus the secretary-general was able to secure.
"The secretary-general's efforts and leadership to mobilize political will were absolutely indispensable to getting things moving in the right direction," Mr. Banbury said.
The UN emergency mission was established in September 2014 at the height of the outbreak and several months after Ebola cases were first reported in December 2013 in Guinea. Mr. Banbury acknowledged that the mission should have come much earlier, but nonetheless praised the speed with which it was eventually created.
"If only the world had listened to MSF [Médecins Sans Frontières] and really done what we ought to have done back in April-May, lots of lives would have been saved," he lamented. The combination of a deadly outbreak and the lack of momentum during those early months further bolstered Mr. Ban's efforts in the months of August-September 2014.
Things moved very fast, Mr. Banbury said. In a matter of days, the mission got all the support it needed both in the General Assembly and the Security Council. Resolution 2177 was passed with "huge consensus," he noted, and on September 19 the mission was established. "It's not usually the case that we have a mission going from no one even thinking about it to formally being established as a legal entity in five days or so," he said.
UNMEER employs a mix of crisis-management and crisis-response. This means that the mission is working to limit the number of new cases by ensuring safe burial practices, proper treatment for those infected, and by mobilizing local communities behind these best practices. Infection rates have considerably slowed down since their earlier peaks, but the outbreak is far from over.
Only a week ago, the World Health Organization (WHO) announced its lowest weekly tally of new cases since June 2014—less than 100—a point also made by Mr. Banbury. But new reports have shown that infection rates are on the rise again, the first time since the beginning of 2015.
"Two cases can become plenty overnight," Mr. Banbury said. "We still need better techniques and fast response capabilities."
During his remarks, Mr. Banbury also provided some recommendations to be used in future emergency crises. The key about UNMEER, he said, is its crisis-management character. "This means having shared goals, having everyone agree on what we are trying to achieve, and a shared strategy to achieve those common goals," he said. "None of this was in place before UNMEER."
But, he added, UNMEER also showed that the United Nations was ideally poised to come up with the right response.
"When faced with a complex crisis, particularly one that the world doesn't really understand, there is no organization in the world that can do what the United Nations does. And by that I mean the UN as a whole and all its constituent parts."
However, some believe the mission could have done more in the way it interacted with local governments. A member of the audience asked Mr. Banbury why, when it organized its inter-agency planning conference in Ghana in October 2014, UNMEER chose not to include local heads of state.
Mr. Banbury admitted that this was a missed opportunity, one that could have helped them build better local capacities, but said the decision was necessary. "I think we had to do it," he said.
IPI Senior Adviser John Hirsch moderated the discussion.
Watch event: