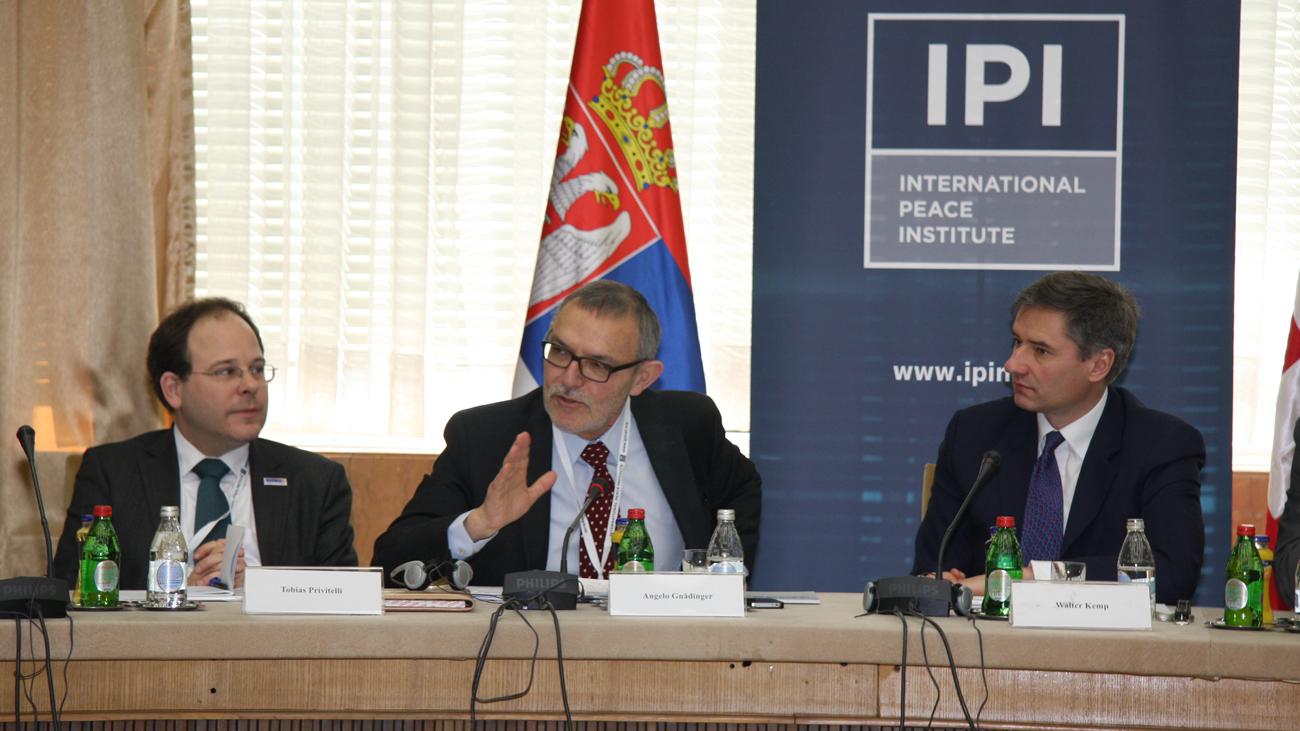 On February 12, the International Peace Institute, with the support of the Federal Department of Foreign Affairs of Switzerland, held a meeting in Belgrade to explore new approaches to improving relations between Georgia and the breakaway regions of Abkhazia and South Ossetia.
The meeting, entitled "Conflict Dynamics and Prospects for Reconciliation between Tbilisi, Sukhum/i and Tskhinval/I," was held in Belgrade, as Serbia currently holds the Chairmanship of the Organization for Security and Cooperation in Europe (OSCE). Participants included the co-chairmen of the Geneva International Discussions (representing the European Union, the OSCE, and the United Nations), former mediators, international experts, and representatives of civil society from Georgia, Abkhazia, and South Ossetia.
Participants discussed the current situation in Georgia in relation to developments in the region, particularly the recent treaty on "alliance and strategic partnership" between the Russian Federation and Abkhazia, an impending treaty on "alliance and integration" between the Russian Federation and South Ossetia, debates surrounding non-use of force agreements, as well as the crisis in Ukraine.
They also discussed how to enhance the effectiveness of the Geneva International Discussions (GID) – a consultative format that was created after the crisis in Georgia in 2008 that acts as a platform for dialogue among participants from Moscow, Tbilisi, Washington, Sukhumi, and Tskhinvali. It was noted that the parameters of the GID's work are handicapped by "multiple ambiguities": as one participant described it, "there are four parties, and three conflicts." A number of useful initiatives by the GID were highlighted, particularly the Incident Prevention and Response Mechanism. At the same time, the co-chairmen were encouraged to be bolder, for example, by promoting more direct political contacts between the parties and more clearly defining shared objectives. It was also concluded that further steps are needed to overcome a deficit of trust.
Participants described a number of Track II initiatives and confidence-building measures currently being carried out in Abkhazia and South Ossetia, and between Georgia and those two regions. Ways were discussed how to promote status-neutral initiatives that could improve the humanitarian conditions of the affected populations, enhance trans-border cooperation, enable freedom of movement, locate missing persons, and promote reconciliation. Suggestions were also made on how to bridge the distance between Track I and Track II initiatives.
The Belgrade meeting, which took place in the Palace of Serbia, was the third in a series of meetings that IPI has organized to support the work of the Special Representative of the OSCE Chairperson-in-Office for the South Caucasus, Ambassador Angelo Gnädinger.