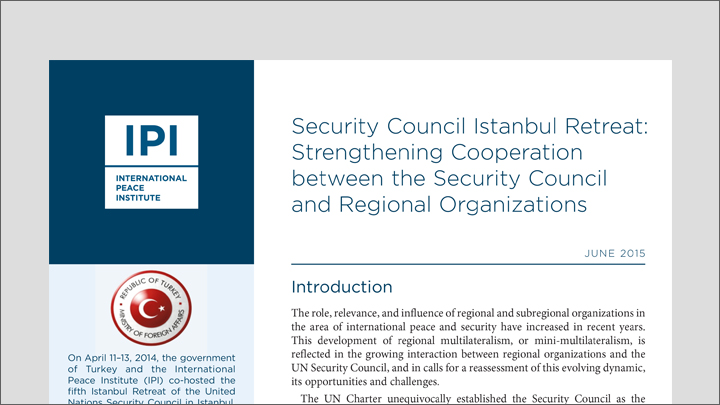 Regional organizations have been playing increasingly important roles in the maintenance of international peace and security in recent years. In parallel, their interactions with the UN Security Council have grown, presenting new opportunities and challenges for collaboration in advancing peace. How can the Security Council and regional organizations work together more effectively?
As organizations try to keep pace with rapidly evolving international peace and security dynamics, this meeting note offers a practical understanding of the nature of cooperation between the Security Council and regional organizations, such as the African Union, the European Union, and the Organisation of Islamic Cooperation. Focusing on the areas of conflict prevention, peace operations, counterterrorism, and humanitarian crises, it provides ideas for enhanced cooperation on different issues relating to international peace and security.
The report stems from the fifth annual Istanbul Retreat of the UN Security Council, convened by the government of Turkey, which council members attended from April 11 to 13, 2014. The Istanbul retreat seeks to provide an informal forum for Security Council members to discuss topics on the agenda of the council.
The following are among the ideas for improving collaboration between the council and regional organizations that emerged from the discussions:
Conflict Prevention: Produce a comprehensive overview of the council, UN, and regional organizations' roles and responsibilities and enhance their joint early-warning efforts and information sharing. Support and develop the conflict prevention role of existing UN bodies, such as the Mediation Support Unit, the Peacebuilding Support Office, before creating alternative bodies.
Peace Operations: Rethink funding structures and capacity-building mechanisms to more adequately and sustainably support regional organizations in peace operations, including security sector reform and disarmament, demobilization, and reintegration processes.
Counterterrorism and Sanctions: Build new partnerships between the council and regional actors in counterterrorism, as most current efforts are state-centric. Develop strategies for peace operations that incorporate the interconnectedness of conflict and terrorism when necessary (e.g., AMISOM in Somalia).
Humanitarian Crises: Review refugee policy options and develop strategies with neighboring countries, host governments, and regional organizations for a coherent response to inflows of refugees, including capacity development of the host community.