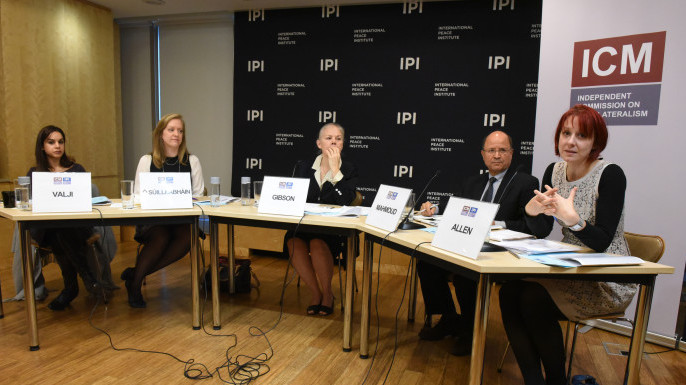 On November 4th, the Independent Commission on Multilateralism (ICM) hosted its first Public Consultation focusing on the findings and recommendations of the Women, Peace, And Security Discussion Paper, and providing an opportunity to reflect on the recent fifteenth anniversary of UN Security Council Resolution 1325.
Click here to view the event video on YouTube>>
Advancing the women, peace, and security agenda may require a fundamental rethinking of the traditional approach to peace and security in the multilateral system. There is compelling evidence that women's security and gender equality in society are associated with broader peace and stability in states. As such, the credibility of the multilateral system itself depends on progress in this area—which may be achieved through a needed shift from state security to human security. This is a central argument in the ICM Discussion Paper on Women, Peace, and Security.
A link to the full ICM paper, executive summary, and comments section can be found here on the ICM website. Following brief remarks by the discussants below, this event was open for questions and feedback from diverse participants, serving as an input to the ICM's ongoing work in this area.
Discussants:
Andrea Ó Súilleabháin, Senior Policy Analyst, IPI
Youssef Mahmoud, Senior Adviser, IPI
Nahla Valji, Deputy Chief, Peace and Security, UN Women
Louise Allen, Executive Coordinator, NGO Working Group on Women, Peace, and Security
Moderator:
Barbara Gibson, Deputy Secretary-General, Independent Commission on Multilateralism