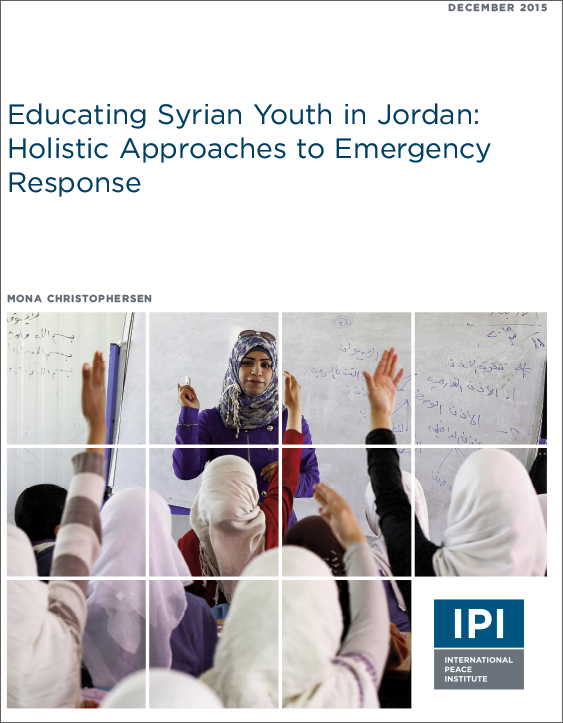 The Syrian crisis has disrupted education trajectories for Syrian youth both inside and outside Syria. The lack of learning opportunities further destabilizes the lives of young refugees, making them more vulnerable to various forms of exploitation and susceptible to extremist ideologies. While these risks are widely recognized, education programming tends to focus on younger children and basic education, leaving out the needs of youth.
The latest report by IPI attempts to bridge this gap by focusing on education for Syrian youth in Jordan. Drawing on interviews conducted in Jordan, the report considers challenges for Syrian adolescents and youth, and it offers recommendations for how to improve youth programming in emergencies both in Syria and in other contexts.
The report focuses on challenges particularly relevant to Syrian youth (a contested concept, but commonly defined as 15- to 24-year-olds). These include:
Humanitarian programming does not systematically target youth.
Education programs tend to focus on younger children.
The Jordanian government restricts vocational training for Syrian youth.
Some Syrian students struggle with differences between the Jordanian and Syrian curricula.
Many students face bullying in school.
The cost of transportation is an economic burden that keeps some youth out of school.
Young men are often more concerned about finding work than pursuing education.
Young women often want to pursue higher education but cannot afford it.
The report concludes by offering three recommendations for how to improve youth programming in emergencies:
A Holistic Approach: Emergency responses should develop a youth strategy that addresses the needs of youth and their connection to other areas such as education, health, and livelihoods. This could take place through youth taskforces at the local, national, or even regional levels.
Minimum Standards for refugee education programs should be established from the start. Such standards could tie into an international system for certifying learning achievements.
A Transition Plan for what will happen next in refugee graduates' lives should be developed. This could include long-term vocational training, income-generating projects, and opening particular employment sectors to refugees.
Related Report:
Securing Education for Syrian Refugees in Jordan