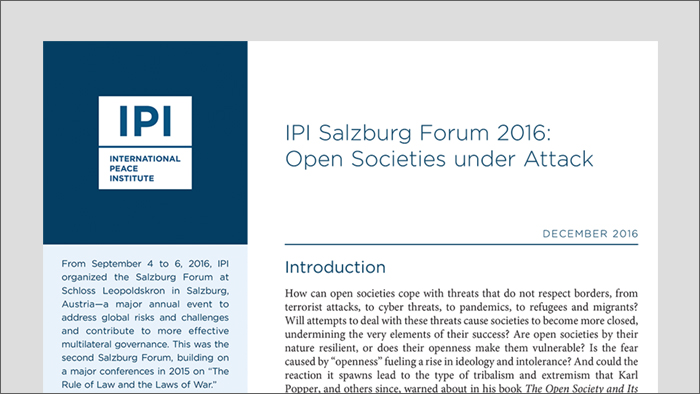 How can open societies cope with threats that do not respect borders, from terrorist attacks, to cyber threats, to pandemics, to refugees and migrants? Is the fear caused by their "openness" fueling a rise in ideology and intolerance, and will this cause open societies to become more closed? And with open societies under attack, what are the consequences for the international system?
These were the questions addressed in a meeting the International Peace Institute (IPI) organized on the theme of "Open Societies under Attack: The Return of Ideology" from September 4 to 6, 2016, in Salzburg, Austria. The meeting brought together a high-level group of participants from diverse backgrounds, including the diplomatic, artistic, academic, and art communities, as well as current and former politicians, journalists, and representatives of civil society. It was part of the IPI Salzburg Forum, a major annual event to address the risks and challenges of today and contribute to more effective multilateral governance in the future.
Over a series of six sessions, participants discussed a variety of interconnected issues, including the governance of security, privacy and civic freedoms, manifestations of right-wing and Islamic radicalization, prevention of violent extremism and the incentives of terrorism, the spread of populism and authoritarianism, and the growing lack of trust in the political sphere.