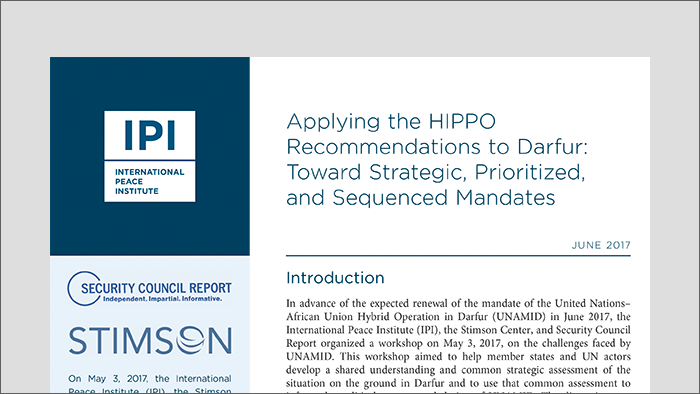 Recent changes in the situation on the ground present an opportune moment for the international community to shift its political strategy in Darfur. Despite ongoing tensions, the relationship between the Sudanese government and the international community is showing signs of improvement. Moreover, while security has improved in some areas of Darfur, the human rights situation in Sudan has deteriorated. All these factors suggest a need for a shift in the political strategy of the United Nations–African Union Hybrid Operation in Darfur (UNAMID).
In advance of the renewal of UNAMID's mandate in June 2017, the International Peace Institute (IPI), the Stimson Center, and Security Council Report co-organized a workshop on May 3, 2017, to help member states and UN actors develop a shared understanding of the situation faced by UNAMID in Darfur. This workshop was the fourth in a series analyzing how UN policies and the June 2015 recommendations of the High-Level Independent Panel on Peace Operations (HIPPO) can be applied to country-specific contexts.
Participants identified ways to amend UNAMID's three priority areas to take into account the changing context. First, the mandate should allow for different types of activities for the protection of civilians in different parts of Darfur. Second, the mission should cooperate with the AU High-Level Implementation Panel, with the panel taking the lead at the national level and the mission shifting its focus to democratic transformation at the state and local levels. Finally, where violence has receded, the mission should shift toward addressing the core drivers of violence.