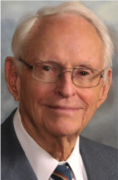 The following is the obituary for Robert P. Brown Jr.:
Richard P. Brown Jr., 96, a lawyer and a decorated Naval officer in World War II, died May 29 at his home in Chestnut Hill.
Mr. Brown retired as a partner at Morgan Lewis in 1988 after completing a distinguished 40-year career at the law firm. He held many leadership positions at Morgan Lewis, including serving on the firm's Long Range Planning Subcommittee in 1962, which oversaw the modern transformation of the firm.
He also headed Morgan Lewis' litigation practice from 1967 to 1978 and helped develop the firm's acclaimed product liability practice.
After his retirement, Mr. Brown continued to volunteer as a judge pro tem, appointed to conduct settlement conferences in cases pending in the Philadelphia Court of Common Pleas, and did so until the age of 92.
He served as chairman of the International Law Section of the American Bar Association and as chairman of the Probate and Trust Law Section of the Philadelphia Bar Association.
Raised in the East Falls section of Philadelphia, he graduated as the valedictorian of his class at the William Penn Charter School, with honors from Princeton University, and from the University of Pennsylvania Law School.
In World War II, he received six Campaign Stars as a Naval officer, serving first as a junior gunnery officer on the battleship Alabama in the North Atlantic and South Pacific, and later on the staff of the Commander, Amphibious Force Pacific Fleet. He participated in the invasions of the Marianas, Iwo Jima and Okinawa and was awarded the Bronze Star medal in the fall of 1945. At Iwo Jima he observed from shipboard the raising of the American flag on top of Mount Suribachi.
He served on and chaired many nonprofit boards, among them the University of Pennsylvania, the William Penn Charter School, and WHYY, Inc. He also served on the board of Fidelity Bank.
Mr. Brown was a member of numerous international organizations, including the Council on Foreign Relations, the International Peace Institute, the American Foundation for the University of the West Indies, the Foreign Policy Research Institute, the Eisenhower Fellows, International House Center, and the World Affairs Council of Philadelphia.
In 1974, he headed the first group of Americans to tour China after President Nixon persuaded Mao Tse-tung to open relations with the United States.
For more than 20 years, until the age of 94, he volunteered as a driver, transporting cancer patients to and from area hospitals.
He is survived by his friend, companion and confidant, Vivian W. Piasecki; two nieces and a nephew. He was married for 36 years to Virginia H. Curtin who died  in 2001.
A Memorial Meeting for Worship, will be held at 11 a.m. Friday, June 16, at the William Penn Charter School, 3000 West School House Lane, Philadelphia, followed by a reception in the Brown family home that Mr. Brown donated to Penn Charter in the 1970s. – WF
Chestnut Hill Local
June 6, 2017
By Pete Mazzaccaro