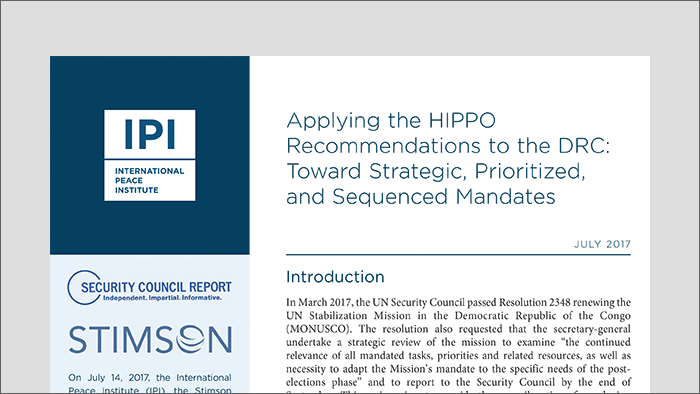 The political crisis related to President Joseph Kabila's stay in power has provoked instability, political violence, and human rights abuses in the Democratic Republic of the Congo (DRC) and fueled conflicts in the country. Economic problems, a deepening humanitarian crisis, and destabilizing regional dynamics have exacerbated these problems. These developments have implications for the political strategy of the UN mission in the DRC (MONUSCO).
In light of the expected renewal of MONUSCO's mandate in March 2018, the International Peace Institute (IPI), the Stimson Center, and Security Council Report co-organized a workshop on June 14, 2017, to give member states and UN actors the opportunity to develop a shared understanding of the situation faced by the UN in the DRC. This workshop was the sixth in a series analyzing how UN policies and the June 2015 recommendations of the High-Level Independent Panel on Peace Operations (HIPPO) can be applied to country-specific contexts.
Participants suggested that MONUSCO's mandate and activities should prioritize the conduct of free, fair, and credible elections in the DRC. MONUSCO should also adopt a more mobile approach to the protection of civilians. Finally, the mission must work with additional partners to identify and fill gaps that it does not have the capacity to address, and eventually work toward an exit strategy.
This publication is part of a project funded by ifa (Institut für Auslandsbeziehungen) with resources provided by the German Federal Foreign Office.