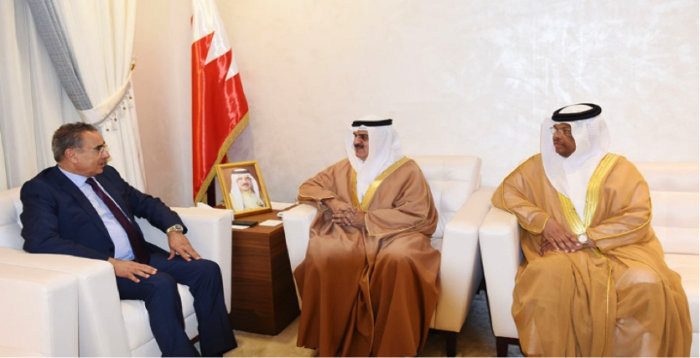 The Speaker of Bahrain's House of Representatives, Ahmed bin Ibrahim Al-Mulla expressed strong interest in cooperation between the House and IPI-MENA on challenges to peace in the MENA region and beyond at a December 6th meeting in Manama.
Speaking with Nejib Friji, Director of IPI-MENA, and Abdulrahman Boumjid, Chairman of the Commission on Human Rights and Member of the Arab Parliament, Mr. Al Mulla called for a research and capacity building partnership on human rights and other priorities to achieve sustainable development and peace in the region.
Mr. Friji briefed Mr. Al Mulla on IPI's role in managing risk and building resilience, as well as IPI-MENA's projects and activities ranging from regional integration, social peace, and the culture of peace to world heritage and interfaith dialogue.
Mr. Al-Mulla affirmed that the culture of peace, tolerance and coexistence is one of the pillars of Bahraini society and its authentic culture. He also pointed out that the coming period will witness joint cooperation with IPI, to support the Arab Parliament in achieving the goals of sustainable development.
Related Coverage in Arabic:
http://akhbar-alkhaleej.com/news/article/1100202
https://www.instagram.com/p/BcWhZIilYid/
http://alwatannews.net/article/747533
https://twitter.com/BhParliament/status/938304246927196160