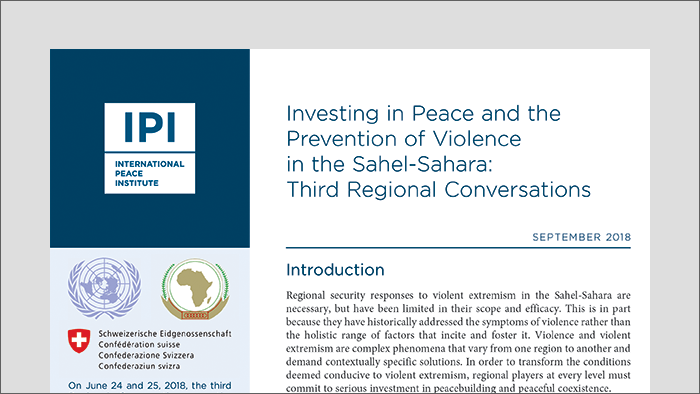 While there has been an increase in security responses to violent extremism in the Sahel-Sahara, these responses have shown their limits. At the same time, successful regional experiences building resilience and proposing concrete and credible alternatives to violence remain understudied and undervalued.
To promote regional conversations around such experiences, the International Peace Institute (IPI), the UN Office for West Africa and the Sahel, the Swiss Federal Department of Foreign Affairs, and the African Union's African Centre for the Study and Research on Terrorism co-organized a regional seminar in Algiers, Algeria, on June 24 and 25, 2018, with support from the government of Algeria. This meeting brought together more than 70 experts and practitioners from thirteen countries in North, West, and Central Africa to discuss the prevention of violent extremism from a regional perspective. This followed similar conversations organized in N'Djamena in 2017 and Dakar in 2016 and a previous seminar in Tunis in 2015.
These conversations highlighted the complexity of violent extremism and the need to view prevention initiatives holistically and pragmatically, with a basis in research on concrete results.