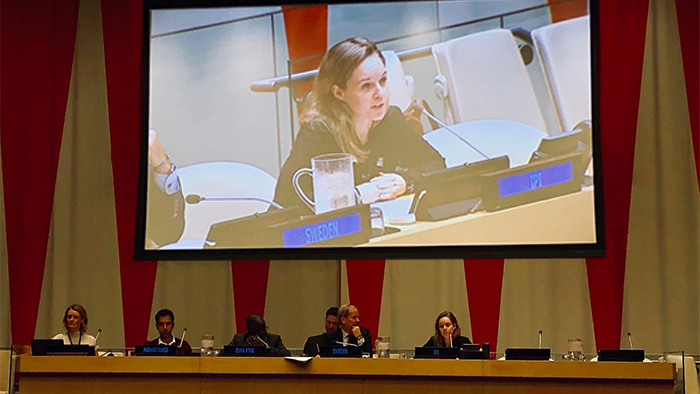 International humanitarian actors face challenges to providing medical care in armed conflict. What does the legal framework for medical care in armed conflict look like? And what are the challenges it faces?
On December 21, 2018, International Peace Institute (IPI) Policy Analyst Alice Debarre briefed the United Nations Security Council Open Arria Meeting on "Protecting Medical Care in Armed Conflict—from Policy to Practice." Ms. Debarre outlined some of the key international humanitarian law norms relating to medical care in armed conflict, and explained the significance of Security Council resolution 2286, which reaffirmed the relevance of international humanitarian law. She then provided thoughts on how these challenges in provision of services can be overcome.
One of the foundational principles of international humanitarian law, codified in the First Geneva Convention of 1864, is that all wounded and sick—including combatants—are entitled to medical care, she explained.  From this principle, a series of obligations have been delineated in subsequent treaties. Key among these are that parties to armed conflict must protect the wounded and sick from ill treatment and that killing or causing suffering or injury to those wounded and sick is strictly prohibited. Another obligation is that parties to armed conflict are required to protect and respect medical personnel, transport and facilities, and that the wounded and sick must be treated without distinction on any basis other than their medical condition. Also, medical personnel cannot be punished for providing such impartial care.
In the years preceding the May 2016 adoption of Resolution 2286, the world was shocked by a spike in brutal violence against healthcare personnel and facilities in countries affected by armed conflict. The adoption of the resolution was evidence that the council heeded the urgent call from medical and humanitarian organizations on the ground to address this concern.
The adoption of resolution 2286 also represented a strong political commitment to protect the sanctity of healthcare delivery in armed conflict. It created momentum for positive efforts to tackle this issue. As requested by the resolution, the Secretary-General published a list of ambitious and concrete recommendations for its implementation in August 2016. Last year, France led the signing of a political declaration on the protection of humanitarian and health workers. Some countries—notably Sweden—engaged in internal reviews of their laws and military doctrine. The World Health Organization (WHO) developed a surveillance system of attacks on healthcare.
"Resolution 2286 is also a strong tool because of its broad scope. We often talk about 'attacks on healthcare,' and people have in mind the bombing of hospitals, or violence against medical personnel. But resolution 2286 also addresses challenges such as the obstruction of medical care, the criminalization of healthcare workers or the removal of healthcare supplies from a convoy," said Ms. Debarre. "They all constitute attacks on healthcare – and all need to be prevented."
On the ground, there is an unabated flow of attacks on healthcare. Three key types of challenges in armed conflict contexts are:
Outright attacks on medical facilities, transport and personnel. These attacks are often violations of international humanitarian law, they are insufficiently investigated, and those responsible are rarely held accountable – legally or politically.
Legal, administrative and other barriers that health workers and patients face. Overbroad counterterrorism laws and policies, for example, have adversely impacted the provision of medical care. Health actors may also face complex and burdensome bureaucratic procedures to be able to operate, or to access certain areas.
Politicization of healthcare. Parties to conflict have instrumentalized health services by denying access to or imposing conditions on healthcare providers as a political or military strategy.
Ms. Debarre then recommended ways to overcome these challenges. First, she said, we can insure we make more systematic use of existing international and other mechanisms to investigate attacks against healthcare—not just for the purpose of ensuring accountability, but also in some cases to understand what happened, and whether systems can be put in place to prevent future attacks.
Second, we can also include clear exemptions for the provision of medical care in counterterrorism measures, to protect health workers' ability to do their job and provide impartial care. Finally, she concluded, it is important we better understand what it means to be a health worker in the country contexts in which the issues we are talking about play out, and to hear what changes these health workers think are necessary.
"We have a robust, longstanding normative framework and clear principles," she said. We have knowledgeable actors willing to guide and support in their implementation, some coming all the way from Afghanistan and South Sudan. We need states to take concrete action to uphold the fundamental norm that those who are wounded and sick have access to the medical care they need."
Other participants were Ambassador Olof Skoog, Permanent Representative of Sweden, who gave introductory remarks, and Farhad Jawid, Country Director, Marie Stopes International, Afghanistan; and  Dr. Evan Atar Adaha, Medical Director, Bunj hospital, in South Sudan, both of whom shared experiences from medical practitioners in the field.