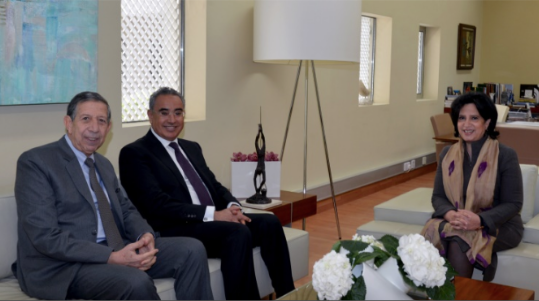 The Middle East and North Africa region could benefit from additional efforts to promote the Culture of Peace, according to IPI MENA Director Nejib Friji, President of Bahrain's Authority for Culture and Antiquities (BACA) Shaikha Mai bint Mohammed Al-Khalifa, and BACA Adviser Mounir Bouchenaki.
This was the subject of a January 30th meeting during which the three parties pledged to further promote the Culture of Peace and the protection of world heritage. In order to do so, they asserted that it would be necessary to initiate dialogue among cultures, maintain the protection and conservation of world cultural heritage during conflict, and enact more preventive measures to do so in peace contexts as well.
At the meeting, Mr. Friji and Shaikha Mai Al-Khalifa discussed the substance and objectives of the forthcoming conference "World Forum for Culture of Peace" to be held at the Peace Palace in the Hague on June 13, 2019, in cooperation with the Al-Babtain Cultural Foundation, UNESCO, Leiden University, and IPI, and highlighted the forum's focus on Iraq and Yemen.
Shaikha Mai Al-Khalifa confirmed her attendance and participation to the international conference, which is set to bring together heads of states, ministers, and high-level officials to advocate education of the culture of peace as a tool to protect world cultural heritage, with a focus on Iraq and Yemen in efforts to consolidate peace, transition, and reconstruction.