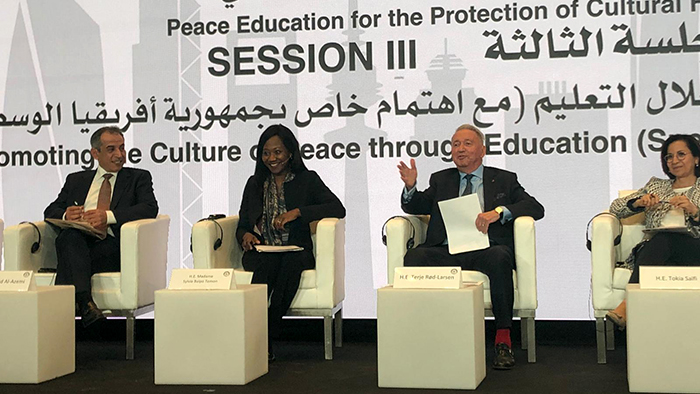 The definition of peace has shifted in the United Nations community from the absence of conflict to a more active, "positive peace." Looking at peace from this perspective requires a shift in focus from identifying and combating the causes of wars to understanding the factors that foster peace and inclusivity. To view a holistic perspective of peace, it is necessary to explore the connections among culture, peace, security, and development.
The "culture of peace" recognizes the link between peace, development, and human rights. Defined in 1999, the term seeks to tackle the root causes of conflicts emphasizing the importance of dialogue, negotiation, and cooperation among individuals, groups, and nations.
On June 13, 2019, the first annual World Forum for the Culture of Peace took place in The Hague on "Peace Education for the Protection of Cultural Heritage." It was organized by the Abdulaziz Saud Albabtain Cultural Foundation with support from IPI, the International Committee of the Red Cross, the University of Leiden, and the Carnegie Foundation.
High-level representatives from around the world discussed the importance of peace education for the protection of cultural heritage with a particular focus on Iraq, Yemen, and the Central African Republic. The day-long forum ended with "Messages for Peace" from global leaders including:
María Fernanda Espinosa Garcés, President of the 73rd Session of the UN General Assembly (Video Message)
Marzouq Al-Ghanim, President of the Kuwaiti National Assembly
Abdulaziz Saud Albabtain, Chairman, Abdulaziz Saud Albabtain Cultural Foundation
Faustin-Archange Touadera, President of the Central African Republic
Marie-Louise Coleiro Preca, President Emeritus of Malta
Abdullah Gül, Former President of Turkey
Hassan Arfaoui, Representative of the President of Tunisia
Laurence Konmla, Special Envoy of the President of Liberia
Ammar al-Hakim, President of the Reform and Reconstruction Alliance of Iraq
In Session III of the forum, IPI President Terje Rød-Larsen moderated a panel on Promoting the Culture of Peace through Education.
Other Attendees Included:
Joke Brandt, Representative of the Dutch Government and the Secretary-General of the Ministry of Foreign Affairs
Erik de Baedts, President, Peace Palace / Carnegie Foundation
Prince Turki Alfaisal Alsaud
George Vella, President of Malta
Haris Silajdžiž, Former President of Bosnia and Herzegovina
Yousef bin Ahmad Al-Othaimeen, Secretary-General, Organization of Islamic Cooperation
Taieb Baccouche, Secretary-General of the Arab Maghreb Union and Former Minister of Foreign Affairs of Tunisia
Khaled al-Yamani, Minister of Foreign Affairs of Yemen
Peter Maurer, President, International Committee of the Red Cross
Hilal Al Sayer, President of the Red Crescent Society, Kuwait
Leoluca Orlando, Mayor of Palermo
Shaikh Mohammed Sabah Al-Salem Al-Sabah, Former Deputy Prime Minister and Minister of Foreign Affairs, Kuwait
Ali Al-Shukri, Representative of President of Iraq
Shaikha Mai bint Mohammed Al-Khalifa, President, Bahrain Authority for Culture and Antiquities, Kingdom of Bahrain
Abdullah Lamlas, Minister of Higher Education and Scientific Research, Government of Kurdistan Region, Iraq
Yusuf Goran, Minister of Higher Education and Scientific Research, Government of Kurdistan Region, Iraq
Michael Frendo, Speaker Emeritus of the Parliament of Malta and former Minister of Foreign Affairs
Hamed Al-Azemi, Minister of Education of the State of Kuwait
Madame Sylvie Baipo Temon, Minister of Foreign Affairs, Central Republic of Africa
Tokia Saïfi, Member of the European Parliament
Moukadas Noure, Minister of Education of the Central African Republic
Mounir Bouchenaki, Advisor to UNESCO for Cultural Heritage
Abdulqawi Ahmed Yusuf, President of the International Court of Justice
Carl Stolker, President of the University of Leiden