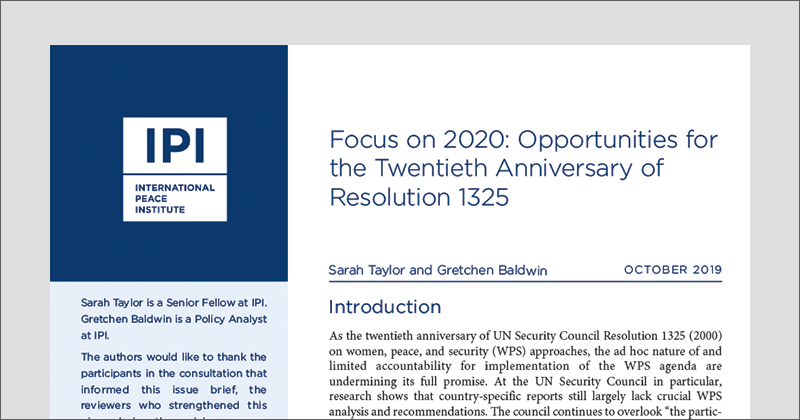 As the twentieth anniversary of UN Security Council Resolution 1325 (2000) on women, peace, and security (WPS) approaches, the ad hoc nature of and limited accountability for implementation of the WPS agenda are undermining its full promise. This is despite increasing recognition that efforts to build and sustain peace are dependent upon the full participation of women and respect for their rights. There is thus a need for concerted, strategic commitment to addressing the remaining gaps in implementation of the WPS agenda.
This paper identifies opportunities for the twentieth anniversary of the adoption of Resolution 1325, particularly for the UN Security Council, its member states, and the UN system. It builds on IPI's scene-setting issue brief "The Global Pushback on Women's Rights: The State of the Women, Peace, and Security Agenda." The paper concludes with several steps the UN and the international community can take to support substantive progress on WPS:
Use creative mechanisms to increase women's participation: The multilateral system can support new initiatives such as the regional women mediator networks.
Leverage the tools of the UN Security Council: The council should consistently request gender-sensitive analysis and recommendations, mainstream the WPS agenda across all policies, and better integrate the work of the Informal Expert Group on WPS into its daily work.
Significantly strengthen accountability: Increasing accountability requires changing the political calculus for engaging on the WPS agenda, particularly at the national level.
Move the focus to the field: Dialogue around WPS needs to shift from UN headquarters in New York to focus more on the countries and regions grappling with conflict.
Increase financing: Donors should increase their financial commitments to the WPS agenda and ensure funding supports long-term peacebuilding efforts.