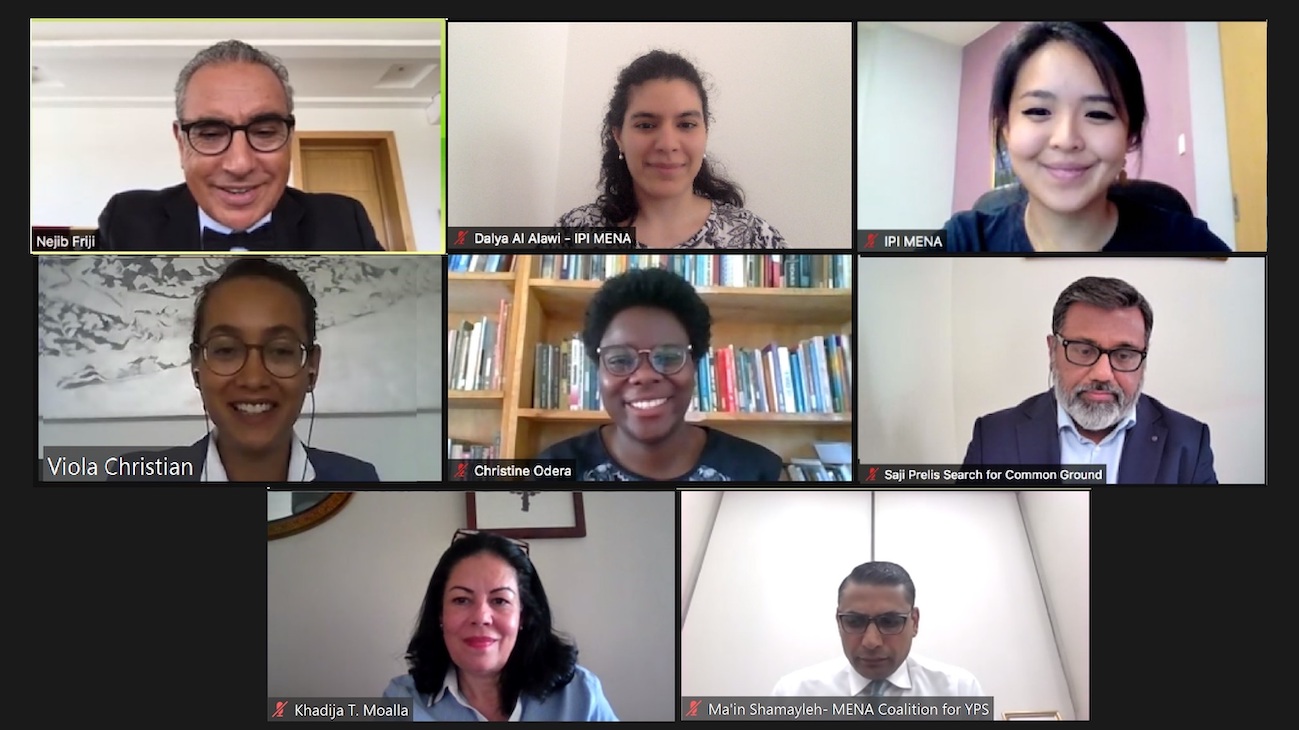 On August 31st, IPI MENA convened a closed discussion that called for the meaningful inclusion of youth in the countering violent extremism (CVE) agenda. The event was joined by leaders and practitioners of peacebuilding to commemorate the International Day of Remembrance and Tribute to the Victims of Terrorism, observed on August 21st.
Addressing speakers from Austria, Jordan, Kenya, Tunisia, and the USA, IPI MENA Director Nejib Friji encouraged engaging youth at all levels of the multilateral system. "We must move beyond their seat at the table as tokenism, and turn it into meaningful inclusion as key agents of peace," Mr. Friji stressed. He further highlighted quality education as the one of most valuable tools in preventing and countering violent extremism (P/CVE) agenda, to pull individuals away from the lures of terrorism, through empowerment and building resilience.
Viola Christian, Programme Officer at Ban Ki-moon Centre for Global Citizens, explained how global citizenship education specifically is used to "develop a core concept of values based on human rights." Its root in both formal and non-formal education develops socio-emotional competencies, where one learns tolerance of other cultures and backgrounds alongside other key skills that are crucial in P/CVE, she said. Ms. Christian shared the various microprojects supported by the foundation which echoed her message of how everyone can drive activism and change in their own capacity, saying "It doesn't need to be a big project to have an impact on P/CVE."
Mr. Saji Prelis, Director of Children and Youth Programmes at Search for Common Ground, highlighted the key areas and successes of young people's influence on P/CVE agendas, namely the Youth Action Agenda to PVE and Promote Peace. Based on lessons learned, Mr. Prelis noted that programming and narratives around P/CVE for youth also need to incorporate their engagement, in order to support them holistically. He signaled the next steps for the Youth, Peace and Security (YPS) Agenda in P/CVE, which included; national commitments, safeguarding of youth and civic spaces, and emphasized the importance of financing youth leadership without creating any barriers.
Ms. Khadija Moalla, Senior International Consultant on the Rule of Law, PVE, and Women Empowerment, shared her experience of the legal and social dynamics that dictate youth and community values in the MENA region. "We need to develop the ability to see the invisible factors influencing our societies, and turn these collective blind spots into empowering actions," stressing the need to tailor and reframe P/CVE programmes towards the values that youth identify with, to be able to work synergistically as partners.
Mr. Ma'in Al Shamayleh, Co-Founder of MENA Coalition for Youth, Peace, and Security, spoke of how his organization is focused on bridging the gap between the international and local communities, in understanding and implementing the UN's Youth, Peace and Security (YPS) agenda. He underscored how utilizing the digital space effectively as an avenue that encourages and fosters the safe spaces needed, for young people to positively contribute to P/CVE efforts in the region.
Ms. Christine Odera, Global Coordinator of Commonwealth Youth Peace Ambassadors Network, shared how the organization's platform was created to share ideas and best practices, as a community of peacebuilders. By optimizing and synthesizing policies from the global context to the grassroots level, the platform has enabled young people to mobilize and enact change in their local communities, aligning to the P/CVE, women, as well as the Women, Peace, and Security agendas. She summarized that "radicalization and ideologies don't have borders, so we cannot work in silos … as the peace agenda is all our agenda."
Before concluding the session, Mr. Friji expressed his thanks to the panelists for their participation, and reiterated IPI's commitment beyond this event to work together for peace, security, and sustainable development.