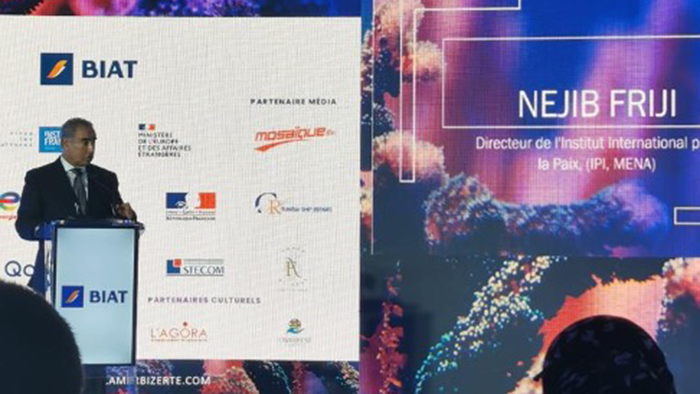 On September 25th, IPI MENA Director Nejib Friji addressed the Forum Mondial de la Mer – Bizerte in Bizerte, Tunisia, calling for enhanced efforts to achieve the required environmental objectives in the Mediterranean Sea.
Organized by La Saison Bleue, in collaboration with the Tunisian authorities, Le Forum Mondial de la Mer is dedicated to address and discuss maritime issues. This year's 4th edition of the annual meeting was devoted to themes on "The Mediterranean of Projects" as well as to the European Union's commitment to the oceans, Mission Starfish 2030. The occasion also saw the announcement of the Mediterranean Parliament of the Sea, which brings together elected representatives from the different countries of the Mediterranean coast.
In his opening statement addressing 300 participants, HRH Prince Albert of Monaco called for further awareness and cooperation in the fight against marine pollution, emphasizing the need for collective efforts from the countries on both sides of the Mediterranean. Statements in the same line were made by HE Annick Girardin, French Minister for the Sea, HE Ricardo Serrão Santos, Minister for the Sea, Portugal, as well as Mr. Pascal Lamy, Former Director-General of the World Trade Organisation, currently Chair of Forum Mondial de la Mer – Bizerte.
Speaking in the session entitled "The Mediterranean, an Exemplary Sea by 2030," Mr. Friji underscored the need for regional integration in the MENA region to tackle Mediterranean Sea challenges, calling for greater cooperation between the shoring countries. "Mutual dependencies can facilitate the cooperation and communication necessary to generate the momentum for regional integration," drawing from positive examples in the Middle East and North Africa region, the Gulf in particular, and its existing mechanisms for cooperation over shared energy resources.
"By strengthening existing regional platforms and creating new initiatives – an integrated region can be a structured network that has the capacity to create positive ripple effects," Mr. Friji stressed. He further highlighted the necessity of taking regionally sensitive approaches in addressing shared challenges, which reiterated his earlier recommendation to "look at the lessons learned [from other regions] and create a homegrown approach to regional integration."
Other speakers included Ms. Rym Benzina, President of La Saison Bleue; Mr. Olivier Poivre D'Arvor, Ambassador for the Poles and Maritime Issues, France; Ms. Asma Shiri Laabidi, Secretary-General of Maritime Affairs, Tunisia; and Mr. Samir Abedellaoui, Governor of Bizerte.