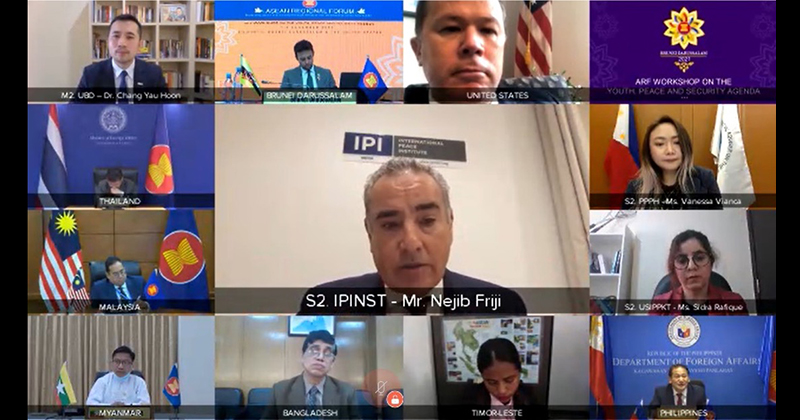 On December 1st, IPI MENA Director Nejib Friji appealed to ASEAN officials for deeper collaboration in order to advance the culture of peace within the MENA regional integration.
Mr. Friji participated as a panelist in a workshop, as part of the Association of Southeast Asian Nations (ASEAN) Regional Forum organized and hosted by Brunei Darussalam, in partnership with the United States. The theme of the two-day virtual workshop revolved around the Youth, Peace and Security (YPS) Agenda.
Speaking on the second session entitled "Promoting a Culture of Peace," Mr. Friji drew the links between the YPS, Culture of Peace, and Regional Integration agendas, by highlighting how the core foundations are based on an "intricately woven web of culture, peace, security, and development." "A youth-driven framework is essential in achieving all agendas," he stressed.
Mr. Friji emphasized how education, including the roles of religious leaders, and women are pertinent, in promoting a culture of peace for young people. "Culture is a cross-cutting factor in achieving all the Sustainable Development Goals," he explained, as these elements are encapsulated and best leveraged for success within the regional integration framework.
He concluded by calling for deeper collaboration between IPI and all concerned stakeholders across the multilateral system, to engage and empower youth and their voices to achieve durable peace and sustainable development. Participants included government officials, United Nations personnel, and Non-Governmental Organisations.