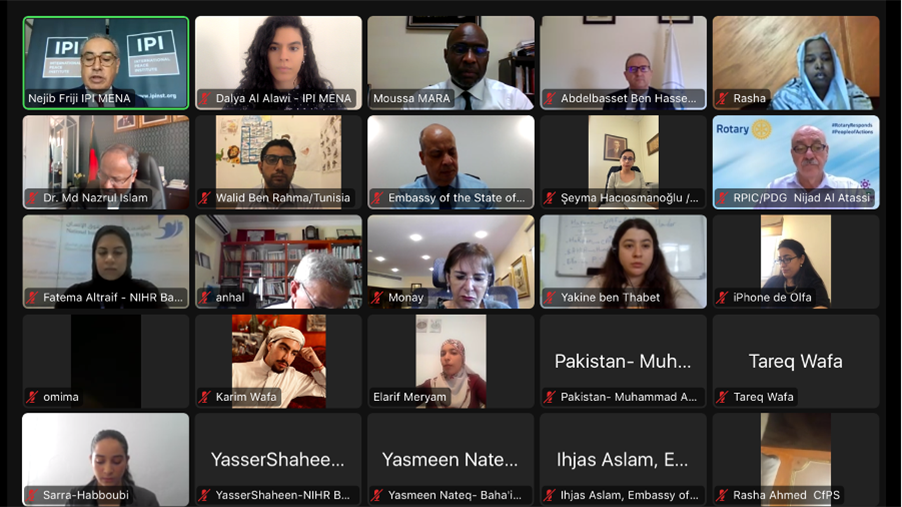 Diplomatic corps, private sector, representatives of human rights institutions and key players called on international law organizations and the multilateral system to work together to address the root causes of irregular migration, bring to justice the perpetrators of human trafficking on migrants, and engage in greater preventive diplomacy.
On June 1st, IPI MENA hosted a webinar under the theme "African Irregular Migration to The North: Transit and Destination Realms" which featured key-speaker H.E Moussa Mara, former Prime Minister of the Republic of Mali, as well as discussants Abdelbasset ben Hassen, President of the Arab Institute for Human Rights (AIHR) in Tunisia and Rasha Ahmed, CEO, Collaborative for Peace in Sudan (CfPS).
Opening the conference, IPI MENA Senior Director Nejib Friji underlined the ordeal migrants face, from leaving their origin countries, travelling across the transit countries and the hazardous and often perilous journeys to then reach the destination countries, where they are sometimes subjected to illegal human trafficking.
"More than 400 migrants and refugees drowned in early 2023 while attempting to cross the deadliest migration route from North Africa to Europe, the most fatalities in the past 6 years over a 3-month period," he stressed, referencing an IOM report.
He underscored IPI's milestone report, the Independent Commission on Multilateralism (ICM), and pointed to the recommendations of addressing the root causes of desperate migration, focusing more on preventing and mediating conflict, ensuring respect for international law, providing more avenues for legal migration, and changing the narrative around migration to ensure it is not weaponized as a political tool.
In outlining the factors contributing to migration from origin countries, Moussa Mara stressed that climate change has played a large role. "Mali has lost two-thirds of its forests in 30 years," he underscored. "These parts of Africa are severely touched by climate change, and that increases poverty and therefore increases the need for migration."
He also pointed to the various policies of some states in allowing high levels of migration to occur. "For some leaders, migration can reduce the pressure of youth on the government. They are asking for jobs, democracy, and we open the doors, this reduces the pressure. It is a reality we need to take into account."
Pointing to the large criminal organizations that play a role in facilitating irregular migration, Mr. Mara emphasized that corruption among public servants, officers, and employees of public administration must be tackled.
He also noted the critical role of diasporas abroad. "25% of Malians live abroad," he stated. "No solution can be effective without involving the diaspora on the question of migration. They have travelled the hazardous journeys; some have succeeded, and some have failed abroad, but they have the experience which leadership across both sides of the Mediterranean doesn't have."
"This issue will shape the relationship between Africa and Europe in coming decades," he concluded.
Abdelbasset ben Hassen stressed that the AIHR considers migration to be at the heart of human rights. "We are trying through legal aid, knowledge production, policies, and legislation to advocate for the elaboration of national refugee systems based on human rights," he stated.
He noted that while migration can generate welfare for the countries of transit and destination, it is often viewed through discourses of fear and despair. "There is a lack of rights-based migration policies, they are security-centered approaches mainly in the northern countries," he underlined. "There is a dehumanization of migrants, they suffer from racism, hate speech, and xenophobia and the 'migrant issue' is approached through this discriminatory discourse."
He called for greater synergy between nations to address the root causes of irregular migration; inequality, poverty, insecurity, human rights violations, and climate change. "There are no national regional policies based on solidarity and cooperation to address the real and root causes producing irregular migration – and this is a real question for the whole international community," he stated.
He stressed the need to reinforce South-South cooperation with regards to migration issues and noted that governments, civil societies and private sectors are rethinking the future. "We have a process with various organizations on the futures of work and jobs. We have one with UNESCO re-thinking education. We need to also re-think our perspectives on migration and refugees," he stated. He concluded with an appeal to mainstream human rights in every issue around migration.
Focusing on women in migration, Rasha Ahmed noted that their numbers are increasing. "Forty-eight percent of women are migrants, despite the challenges they face such as harassment and violence against them," she stated. She underlined that despite these risks, the push-causes continue to rise, including better education, employment, better quality of life for their families, lack of security, living in conflict zones and limited economic resources.
"Climate change is a very important issue, there are recognizable number of women who participate in agriculture," she stressed. "Sixty percent of rural women in Sudan are in the agricultural field, so environmental issues have led to forced migration of these women."
Pointing to Sudan's case of irregular migration, she noted that its geographical location with seven African countries bordering it, has placed Sudan in the middle of the road for migration, smuggling, and human trafficking. "With the current war in Sudan, there is a huge mass of migration to neighbouring countries, which is likely to increase."
She also pointed to the war's impact on food security in Sudan and its contribution to worsening economic situations, price increases, and the resulting increase in migration.
During the open-floor debate session, Olfa Zerria, Assistant and Researcher on Public International Law at the University of Gabes, (ISEJG), Tunisia, called for greater efforts to be deployed by authoritative civil society and legal institutions in origin, transit, and destination countries to equip the influx of irregular migrants with the necessary tools to protect their rights to ensure that it doesn't take place in a completely illegal framework.
She stressed that durable and sustainable cooperation between these countries should reinforce preventive diplomacy in tackling root causes in countries of origin. She concluded by launching an appeal to international organizations to develop frameworks of protection measures in transit countries.
Walid Ben Rahma, Assistant Professor and Head of the Public Law Department at ISEJG reiterated this call and underlined that students are taught the universal values of human rights in relation to migration. He pledged to work together with concerned parties on tackling the phenomenon of irregular migration with the EU and civil society.
Bangladesh Ambassador to the Bahrain, Dr. Md. Nazrul Islam noted Bangladesh's active membership of the UN Global Compact for Migration and stressed Bangladesh's experience in tackling regulation on irregular migration, alongside the issues of the Rohingya refugees.
Abdulnabi Alekry, Bahraini journalist, pointed to Europe's role in African history and the need to support African development in order to address some of the root causes of migration. "It is in Europe and Africa's interest to tackle the issue of migration," he stressed.