IPI Home › Publications › Policy Papers › The Elephant in the Room: How Can Peace Operations Deal with Organized Crime?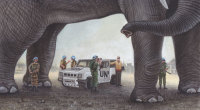 Policy Papers - June 03, 2013
The Elephant in the Room: How Can Peace Operations Deal with Organized Crime?
Walter Kemp, Mark Shaw, and Arthur Boutellis
From Afghanistan to Kosovo, from Mali to Somalia, organized crime threatens peace and security. And yet, of the current 28 UN peacekeeping, peacebuilding or special political missions, less than half have mandates related to organized crime, and those that do are not well-equipped or well-prepared to face this threat.
This new IPI report, by Walter Kemp, Mark Shaw, and Arthur Boutellis, argues peace operations usually treat organized crime like the elephant in the room: impossible to overlook, but too big to deal with. Why is this so? What can be done to rectify the situation? And what can be done when the gamekeepers are actually the poachers; in other words, when senior officials are themselves complicit in illicit activities?
Download the report (4.8 MB)
"The Elephant in the Room" shows how organized crime–once considered a problem isolated to a few, mostly urban, communities–has become globalized and now affects a wide range of the UN's activities, including the maintenance of international peace and security. It describes how crime has become a serious threat in almost every theater where the UN has peace operations, and juxtaposes this with an analysis of mission mandates which contain few operational references to crime.
Case studies based on field research in Haiti, Guinea-Bissau, and Kosovo show the impact of organized crime on stability, governance, and development and demonstrate the challenges faced by the international community in helping states to deal with this problem.
The report argues that unless peace operations can identify and deal with spoilers involved in illicit activities at an early stage, better assess conflict economies, and disrupt illicit markets, organized crime will continue to flourish in theaters where peace operations are deployed–hindering their operability and the very development, security, and justice that the UN seeks to promote.
The report concludes by making recommendations designed to increase the effectiveness of peace operations when dealing with transnational organized crime. This is the second report in IPI's Peace without Crime project. The first, by Mark Shaw and Walter Kemp, is
"Spotting the Spoilers: A Guide to Analyzing Organized Crime in Fragile States."
The Global Observatory
Are Recent Prison Breaks in Nigeria Part of a Southward Expansion by Boko Haram?
Whoever is behind them, these prison breaks signal that Nigeria's authorities are struggling to maintain the rule of law, not just in the far northeast, but also in the Middle Belt and the southwest.
Key Global Events to Watch in December
A list of key upcoming meetings and events with implications for global affairs.
2014 Top 10 Issues to Watch in Peace & Security: The Global Arena
A list of ten key issues to watch that are likely to impact international peace and security in 2014, compiled by IPI's Francesco Mancini.
The Global Observatory, produced by IPI, provides timely analysis on peace and security issues, interviews with leading policymakers, interactive maps, and more.
Recent Events
December 15, 2014
Fathi: Iran and the Struggle Between Hardliners and Reformers
Discussing her new book The Lonely War: One Woman's Account of the Struggle for Modern Iran at IPI on December 15th, author Nazila Fathi said that 35 years after the revolution, Iran is divided between hardliners and a large moderate middle class, but admitted that it is still unclear which of the two sides will gain the upper hand.
December 12, 2014
Effective Governance Key to Africa's Rise
Good governance is the key to Africa's rise, but structural challenges are pulling the continent back, according to a new report launched at a December 12th IPI policy forum entitled "Effective Governance in Challenging Environments."
December 09, 2014
Small States in a Multilateral World
Despite their size and limited resources, small states have an important and crucial role to play in the multilateral system and can leverage their power through cooperation.
View More