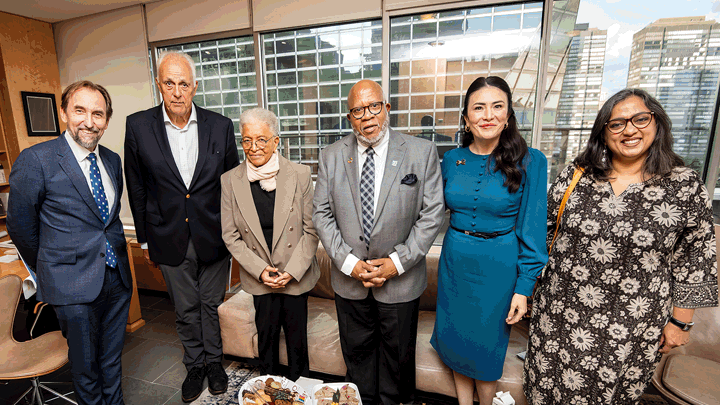 Our Supporters
Through its research, convening, and strategic advising, IPI provides innovative recommendations for the United Nations System, member states, regional organizations, civil society, and the private sector in its mission to strengthen inclusive multilateralism for a more peaceful and sustainable planet.
IPI is grateful for the support from a diverse group of Governments, Foundations, Individuals, and Academia in making this vision possible.
IPI is proud to have received the highest ratings from two of the leading charity evaluators in the United States: Charity Navigator and CharityWatch. IPI is also proud to be a platinum-level GuideStar participant, demonstrating our commitment to transparency.

Give a Lasting Gift for Peace
Help ensure a more peaceful, more equitable, and more sustainable future by dedicating a legacy gift to the International Peace Institute.
Individuals who choose to leave a planned gift to support the work of the International Peace Institute will become members of IPI's Giving Society, Peace Champions, and be recognized in our annual report and on our website.
There are many ways to provide a legacy gift to the International Peace Institute (IPI). Donors are encouraged to make bequests to IPI in their wills and to name IPI as the beneficiary under trusts, life insurance policies, commercial annuities, and retirement plans. There are additional ways to give to support the sustainability of the organization that are referenced in IPI's gift acceptance policy. (Please note that IPI is unable to provide legal or tax advice.)
To discuss making a planned gift for peace, please contact Allison White, IPI's Development Officer, at white@ipinst.org.
Other Ways of Giving
By Check, Phone, or Venmo
Please make all checks payable to the "International Peace Institute," and use the following delivery address:
International Peace Institute
c/o Development Department
777 United Nations Plaza, 4th floor
New York, NY 10017
If you prefer to make a credit card donation via Paypal, please call Allison White at +1-212-225-9659.