IPI Mission
The International Peace Institute is an independent, international not-for-profit think tank with a staff representing more than 20 nationalities, located in New York across from United Nations headquarters, with offices in Vienna, Austria, and Manama, Bahrain (home of our Middle East regional office).

IPI is dedicated to promoting the prevention and settlement of conflicts between and within states by strengthening international peace and security institutions.  To achieve its purpose, IPI employs a mix of policy research, convening, publishing and outreach.
For a fuller explanation of who we are, download our brochure.
History:
Known as the International Peace Academy until early 2008, the International Peace Institute was founded by a group of individuals from within and outside of the United Nations who believed that a thoroughly independent institution, free from official constraints, could make a unique contribution to multilateral efforts to
People
Featured profile:
Rita E. Hauser
Chair of the IPI Board of Directors
Rita E. Hauser has been Chair of the IPI Board of Directors since 1993.Dr. Hauser is President of The Hauser Foundation. She is an international lawyer and was a senior partner for more than twenty years at the New York
President's Message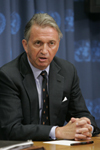 Welcome to the website of the International Peace Institute. This site presents a broad cross-section of IPI's activities in pursuit of our mission to resolve global conflicts and crises through policy research and development. Read more



IPI is proud to have received high ratings from three leading charity watchdogs, Charity Navigator and Charity Watchdog, and Guidestar.
IPI is grateful to our generous friends and donors who provide both intellectual and financial support. Their contributions help us in a very practical way to achieve program objectives, and their leadership is an invaluable resource to our organization.

Support IPI

The Global Observatory
UN Strikes Back as Conflict Escalates in Mali
To achieve long-term stability, Mali's leaders and partners will need to think in terms of years of reconstruction and peacebuilding.
Key Global Events to Watch in January
A list of key upcoming meetings and events with implications for global affairs.
2015: Ten Multilateral Events to Watch This Year
A list of ten events that are likely to impact international peace and security in 2015, compiled by IPI's Francesco Mancini.
The Global Observatory, produced by IPI, provides timely analysis on peace and security issues, interviews with leading policymakers, interactive maps, and more.