IPI Home › Publications › Policy Papers › Global Public Health and Biosecurity: Managing Twenty-First Century Risks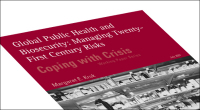 Policy Papers - July 13, 2007
Global Public Health and Biosecurity: Managing Twenty-First Century Risks
This publication is part of the CWC Working Paper Series [read more about this publication series]

Margaret Kruk
The links between health and political stability were recognized by the United Nations High Level Panel on Threats, Challenges and Change, which named the overwhelming disease burden in developing countries in the context of dysfunctional public health systems one of the six major threats to global security (High-Level Panel on Threats, Challenges and Change 2004). Just as health and disease do not respect national boundaries, so too, the response demands the concerted efforts of the international community and particularly of multilateral institutions.

The focus of this paper is on the role of global public health systems and actors in enhancing biosecurity-which for this paper will be broadly defined as the collective activities that mitigate the risks to human health and survival.

The Global Observatory
Can Machines Learn to Predict a Violent Conflict?
Machine learning is poised to help with the basic operational challenge of developing early warning systems: processing and analyzing data.
Key Global Events to Watch in December
A list of key upcoming meetings and events with implications for global affairs.

Top 10 Issues to Watch in 2013: The Multilateral Arena
Ten key issues that are likely to impact global affairs in international peace, security, and development.
The Global Observatory, produced by IPI, provides timely analysis on peace and security issues, interviews with leading policymakers, interactive maps, and more.
Recent Events
November 28, 2013
Energy and Security in the Arctic: A New "Frozen" Conflict?
Is the Arctic a "region of cooperation," or will competition for its potentially rich energy resources lead to conflict in the high north? This was the main question addressed during an expert workshop held in The Hague on November 28th by the International Peace Institute together with the International Gas Union and the Clingendael International Energy Programme.
November 22, 2013
Can Technology Play a Role in Drafting a Constitution?
The effects that new technologies can have on constitutional processes was the topic of this November 22nd IPI roundtable discussion. Approximately five new constitutions are written around the world every year, and their legitimacy is increasingly influenced by a new level of public participation in their drafting, not merely by a plebiscite on the final text. As rapidly advancing technology changes the way that governments and citizens interact, what role are new technologies playing in constitutions?
November 19, 2013
Haqqani: Pakistanis Need Honest Debate About Their Country
"We Pakistanis need an honest debate inside our country about what is Pakistan's national interest. We never have it," said Hussain Haqqani, a former Pakistani diplomat and journalist, who was at IPI on November 19th to give a presentation on his latest book, Magnificent Delusions: Pakistan, the United States, and an Epic History of Misunderstanding.
View More
Latest News