IPI Home › Publications › Policy Papers › Global Public Health and Biosecurity: Managing Twenty-First Century Risks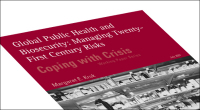 Policy Papers - July 13, 2007
Global Public Health and Biosecurity: Managing Twenty-First Century Risks
This publication is part of the CWC Working Paper Series [read more about this publication series]

Margaret Kruk
The links between health and political stability were recognized by the United Nations High Level Panel on Threats, Challenges and Change, which named the overwhelming disease burden in developing countries in the context of dysfunctional public health systems one of the six major threats to global security (High-Level Panel on Threats, Challenges and Change 2004). Just as health and disease do not respect national boundaries, so too, the response demands the concerted efforts of the international community and particularly of multilateral institutions.

The focus of this paper is on the role of global public health systems and actors in enhancing biosecurity-which for this paper will be broadly defined as the collective activities that mitigate the risks to human health and survival.

The Global Observatory
Aid Workers, More on the Front Lines, Suffer Increased Attacks: Interview with Abby Stoddard
Aid worker attacks were at their highest levels last year.
Key Global Events to Watch in March
A list of key upcoming meetings and events with implications for global affairs.
2014 Top 10 Issues to Watch in Peace & Security: The Global Arena
A list of ten key issues to watch that are likely to impact international peace and security in 2014, compiled by IPI's Francesco Mancini.
The Global Observatory, produced by IPI, provides timely analysis on peace and security issues, interviews with leading policymakers, interactive maps, and more.
Recent Events
February 26, 2014
Roméo Dallaire: Neutralize Child Soldiers Without Destroying Them
"We believe that by better training both police and military and a whole new dimension of working much closer, particularly information-wise, with NGOs and other agencies on the ground, we can work at neutralizing without destroying children as a system of weaponry in this era," said Lt. General Roméo Dallaire (Ret.) at an IPI event on February 26th.
February 19, 2014
Gary Bass: Forgotten Genocide May Portend Future Stain on UN Inaction
The inability of the United Nations Security Council to halt mass atrocities in East Pakistan some 40 years ago has parallels to current inaction in North Korea, argued Gary Bass, a professor of politics and international affairs at Princeton University, on February 19th.
February 18, 2014
Jok: Near Collapse in South Sudan Is Shocking but Not Surprising
The events that recently brought South Sudan to a near collapse were "extremely shocking, but they were not surprising by any means," said Jok Madut Jok, Executive Director of The Sudd Institute, at the International Peace Institute on February 18. "It was only a matter of time before the country returned to this kind of situation," he added.
View More
Latest News