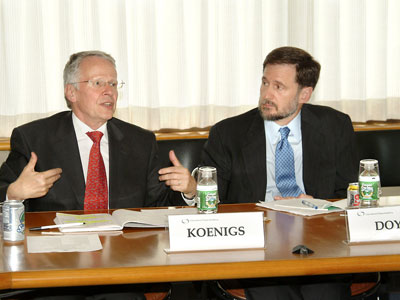 Tom Koenigs, Special Representative for Afghanistan and Head of the United Nations Assistance Mission in Afghanistan (UNAMA), kicked-off the IPA SRSG Series. This event, entitled Afghanistan at the Cross-Roads, addressed current challenges to peacebuilding and statebuilding in Afghanistan.
IPA's "SRSG Series" was created to provide an opportunity for Special Representatives of the Secretary-General (SRSGs) to speak with and enter into an informal and off-the-record conversation with the broader NY-based UN community, when they visit UN headquarters.
Prior to serving as the Representative for UNAMA, Mr. Koenigs served as Germany's Federal Government Commissioner for Human Rights Policy and Humanitarian Aid at the Federal Foreign Office. Prior to that, he headed the United Nations Verification Mission in Guatemala (MINUGUA) as SRSG and also worked as Deputy SRSG of the United Nations Mission in Kosovo (UNMIK). Before joining the United Nations, Mr. Koenigs was active in regional and municipal politics in the German federal state of Hesse and held several different positions including Deputy Mayor of Frankfurt from 1994 to 1997.
The meeting was chaired by Professor Michael Doyle, the Harold Brown Professor of United States Foreign and Security Policy, at Columbia University.