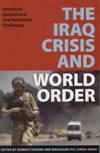 The Iraq war was a multiple assault on the foundations and rules of the existing UN-centered world order.
It called into question the adequacy of the existing institutions for articulating global norms and enforcing compliance with the demands of the international community. The United States has global power, soft as well as hard; but the United Nations is the fount of international authority. Progress towards a world of a rules-based, civilized international order requires that US force be put to the service of lawful international authority. This book examines the major normative and structural challenges to this order from a number of different perspectives.
To view more information about the book on the publisher's Web site, click here.