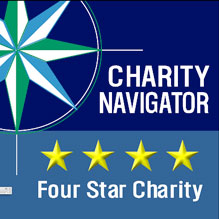 The International Peace Institute is proud to announce that Charity Navigator, the largest non-profit evaluator in the United States, has awarded IPI a 4-star rating for "its ability to efficiently manage and grow its finances."

Charity Navigator bases its evaluations on two aspects of a charity's financial performance: how efficiently it operates day to day, and its forecast for maintaining and growing programs and services. With an overall score of 62.2%, this 4-star rating for 2006 exceeds IPI's previous 3-star ratings for both 2004 (53%) and 2005 (59.3%).
To view IPI's Charity Navigator profile, click here.
IPI received similar praise in December 2007, when New York Magazine touted IPI as a "top ranked New York-based non-profit" based on its positive rating by the American Institute of Philanthropy (AIP).