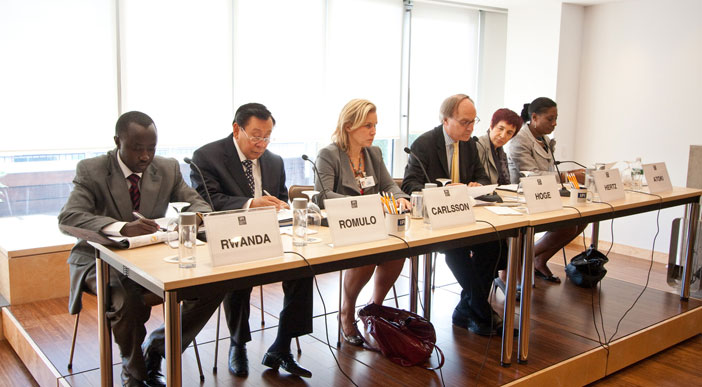 IPI was the scene September 25th for a presentation on the prospects of achieving abolition of the death penalty hosted by the permanent mission of Sweden in cooperation with the permanent missions of Chile, the Philippines and Rwanda.
Sweden's Prime Minister, Frederik Rienfeldt, set the tone of the discussion two days earlier in a speech to the General Assembly when he declared the European Union's commitment to seeking "the worldwide abolition of the death penalty. In all cases. Under all circumstances."
Sweden currently occupies the presidency of the EU.
The Background
In 2007 the General Assembly adopted a resolution on a moratorium on the use of the death penalty. The text deliberately focused on a moratorium on executions as a first step towards abolition. This approach, it was felt, would make it easier to gather widespread support than had the text made a direct call for immediate abolition.
The resolution was reiterated in 2008, when it was also decided to make the resolution a biennial initiative, meaning that the resolution will not be presented this year.
Sweden and its co-hosts said the purpose of the event at IPI was to maintain momentum on the issue and to build on it in preparation of next year's work on the resolution.
And rather than focusing on Europe and its well-known attitude towards the death penalty, the sponsors said, the aim now is to learn about the experience in countries where the death penalty has recently been abolished or where abolition is under consideration.
So Sweden and its co-hosts entitled the day's conversation: "Debating the death penalty – experiences from different regions."
The meeting attracted a large and enthusiastic audience and heard from a panel of five speakers:
Gunilla Carlsson, Sweden's Minister for International Development Cooperation.
Alberto G. Romulo, the Secretary of Foreign Affairs of the Philippines.
Joseph Kabakeza, director general, Bilateral and Multilateral Coooperation in the Rwandan Ministry of Foreign Affairs. (He was a last-minute substitute speaker for Rosemary Museminali, the Minister of Foreign Affairs and Cooperation of Rwanda, who was called away shortly before the session to attend a ministerial meeting of the African Union).
Carmen Hertz, the Human Rights Director in the Ministry of Foreign Affairs of Chile.
Catherine Dupe Aoki of Nigeria, a member of the African Commission on Human and Peoples' rights and chairperson of the working group on the implementation of the Robben Island guidelines on the prevention of torture in Africa.
The moderator was Warren Hoge, IPI's Vice President and Director of  External Relations.