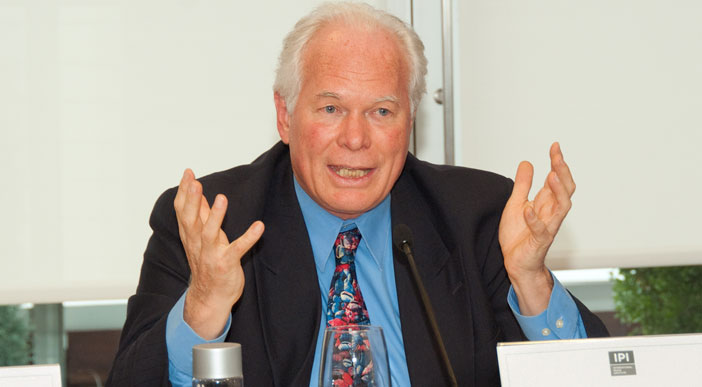 IPI held a policy forum November 13, 2009 on Humanitarian Action in the DRC: Retrospective on Last 5 Years and Overview of Continuing Challenges that featured Ross Mountain, the Deputy Special Representative of the Secretary General and Humanitarian Coordinator in the Democratic Republic of Congo, on the last day of his 36-year United Nations career.
Mr. Mountain made his comment on sexual violence in response to a question from the audience prompted by his presentation of his five years' experience in the country.
"Let me just comment on the issue of sexual violence in the DRC, which is an affront, I think, to all," he said. He noted that the UN had put together a zero tolerance comprehensive strategy to combat sexual violence in the DRC, but that the practice would end only with the end of impunity for those who commit the crime.
"It will not be the international community that will solve this problem," he said. "It's only when the government takes leadership and starts prosecuting people, men essentially, because it's a fact that if there are no consequences, why should they stop, basically?"
Also participating on the panel was Sir John Holmes, the Under-Secretary-General for Humanitarian Affairs and Ann Veneman, the Executive Director of UNICEF. Warren Hoge, IPI's Vice President and Director of External Relations, moderated.