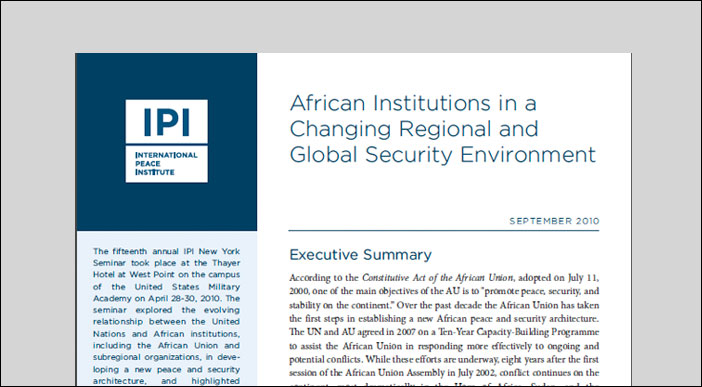 This meeting note captures the insights and experiences shared by representatives from the AU, UN, and related academic think tanks at the fifteenth annual IPI New York Seminar, which had a principal focus on the emergence and evolution of a new African peace and security architecture for the continent.
The UN and AU agreed in 2007 on a Ten-Year Capacity-Building Programme to assist the African Union in responding more effectively to ongoing and potential conflicts. While these efforts are underway, eight years after the first session of the African Union Assembly in July 2002, conflict continues on the continent, most dramatically in the Horn of Africa, Sudan, and the Democratic Republic of the Congo.
While there has been progress in recent years — many seemingly intractable conflicts have ended; standards of living and both infant and maternal mortality have improved; HIV/AIDS infection has begun to be reduced — participants felt that it is increasingly important to develop a multilateral system to meet the many challenges Africa continues to face.