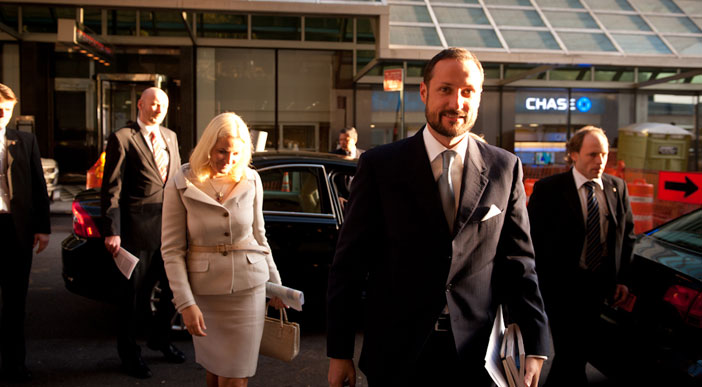 Crown Prince Haakon of Norway joined journalist Christiane Amanpour, UN Development Programme head Helen Clark, and author Greg Mortenson for a panel discussion "From Crisis to Development: Recovery and the Millennium Development Goals" at IPI on October 28th.
The panelists discussed various measures that the international community can undertake to facilitate MDG achievement in countries that face persistent humanitarian challenges.
The eight MDGs, launched by world leaders in 2000 and targeted for achievement by 2015, established a framework for the members of the international community to work together to create a better future for billions of people. They seek the eradication of extreme poverty and hunger; empowerment of women; increased access to the essential services of education, healthcare, clean water, and sanitation; reduction of the incidence of specified deadly diseases; protection of the environment; and the forging of strong global partnerships for development.
In her remarks, Helen Clark, who served as Prime Minister of New Zealand from 1999 to 2008, said that for the MDGs to succeed, both small- and large-scale interventions are needed. "So often a country will have a great strategy, and even a good policy, but there is no capacity below those who thought of that to actually make a difference on the ground," she said. "They need to make a difference in their communities, in a realistic way, towards what will move things."
In his remarks, the crown prince, who is a UNDP Goodwill Ambassador, paraphrased something from Mr. Mortenson's book Three Cups of Tea, saying, "You can only teach a fraction of what you can actually learn from the people you meet."
"It is in the face-to-face meetings with individuals that our morals are challenged and our ethics are formed," he said to an overflow audience that included government officials, ambassadors, journalists, and dignitaries, including the crown prince's wife, Crown Princess Mette-Marit of Norway.
"I think we use far too much time on what divides us, what separates us, what our differences are, how we fight each other," the crown prince said.

 Read transcript