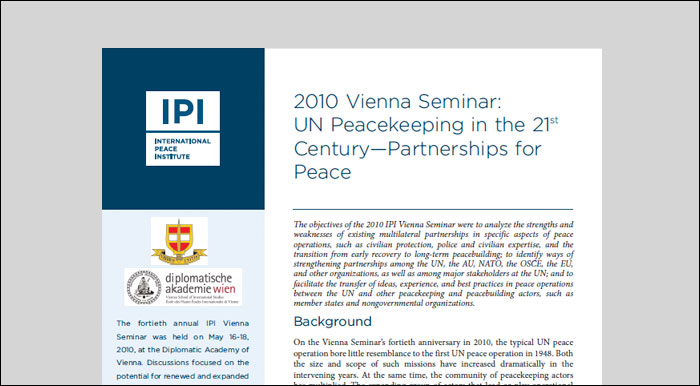 Discussions at the 2010 IPI Vienna Seminar were focused on the potential for renewed and expanded partnerships that respond more effectively to peace and security challenges. Participants included peacekeeping experts, academics, and officials from the United Nations, African Union (AU) , North Atlantic Treaty Organization (NATO), Organization for Security and Co-operation in Europe (OSCE), and European Union (EU), among others.
The objectives were to analyze the strengths and weaknesses of existing multilateral partnerships in specific aspects of peace operations, such as civilian protection, police and civilian expertise, and the transition from early recovery to long-term peacebuilding; to identify ways of strengthening partnerships among the UN, the AU, NATO, the OSCE, the EU, and other organizations, as well as among major stakeholders at the UN; and to facilitate the transfer of ideas, experience, and best practices in peace operations between the UN and other peacekeeping and peacebuilding actors, such as member states and nongovernmental organizations.
The May 16-18 seminar was held under the Chatham House Rule of nonattribution.