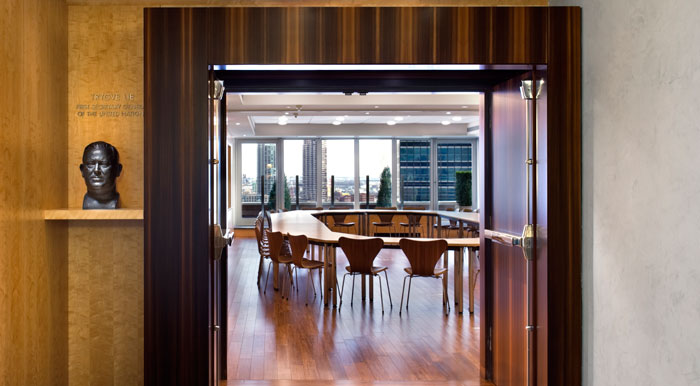 In the winter of 2008, Terje Rod-Larsen, the President of the International Peace Institute, was talking to me about my becoming the organization's Vice President and Director of External Relations, and the selling point he chose to show me was a bustling construction site on the top floor of the UN Plaza building in New York, where the institute is based.
Through the clouds of plaster dust, I could make out the heavily tattooed arms of buff construction workers and hear the whine of power tools over a background of pulsating salsa music from a portable radio.
This, Terje said grandly, was to become the institute's Trygve Lie Center for Peace, Security and Development, a place, he explained, where United Nations ambassadors and other high-ranking officials and experts could unwind and exchange ideas in a trustful setting not available across the street in the UN itself.
[This article, written by Warren Hoge, IPI's Senior Adviser for External Relations, for the InterDependent, the venerable magazine of the United Nations Association of the United States of America, was posted on the publication's website on September 12th.]
I wondered about the need for that, having listened to a lot of revealing UN conversation during the preceding four-and-a-half years when I covered the UN for The New York Times.
But in the years to come, I was to reflect repeatedly on Terje's comment as I kept hearing men and women I had known well from the Security Council and the General Assembly speak in the Trygve Lie Center in a distinctly more animated and forthrightly way than they had at the UN.
In its finished state that spring, the new center became an inviting space of blond wood and glass, with a spectacular panoramic balcony view of the UN complex and Long Island City beyond. Since then, we have welcomed more than 25,000 people there to a variety of events all designed to prompt strategic thinking and policy development on peace and security issues.
The year before the creation of the Trygve Lie Center, there were 49 such events. In 2008, the number rose to 84; in 2009 to 100; last year to 106, and this year we are on pace for 115.
We have 14 scheduled for the second half of September, including a speech by Alassane Ouattara, the President of Côte d'Ivoire; a policy forum featuring Yossi Beilin, former Justice Minister of Israel, and Yasser Abed Rabbo, the Secretary-General of the Executive Committee of the Palestine Liberation Organization; addresses by Augustine Mahiga, Special Representative of the Secretary-General for Somalia, with Yerzhan Kazykhanov, the Foreign Minister of Kazakhstan, and Lamberto Zannier, Secretary-General of the Organization for Security and Cooperation in Europe; and a high-level symposium that we co-host each year with the foreign ministry of Norway at the opening of the General Assembly. This year, it will focus on the role of social media in promoting democracy and human rights.
Our events range from intimate ministerial dinners to confidential roundtable meetings of ambassadors and experts and IPI staffers advancing our research agenda to standing-room-only gatherings for known international speakers and authors. We have held conferences, seminars and retreats; speeches by heads of state and government; panel discussions on challenges for multilateral policy-makers; and presentations by special representatives of the secretary-general offering field reports about the UN's work. Since we publish transcripts, pictures, and summaries of these activities on our Web site, and have begun streaming public events live through the site, we reach a far greater audience than the 125 or so who show up in the room. All events are by invitation, with names drawn from the lists of thousands of people that we have compiled, sorted by their regions, their interests and their professional responsibilities.
Geographically, we spend the most time on Africa and the Middle East. By subject, the greatest number of activities focus on peacekeeping and peace-building, terrorism, conflict prevention and humanitarian affairs.
The International Peace Institute is financed by governments, individuals and foundations, and one benefit of partnering with us is co-organizing events. We use the room only for events IPI is involved in, and we do not rent it out despite many pleas from other organizations in the space-strapped UN community.
Intensely international, the institute has a staff of 45 people representing more than 20 countries, and of the five people responsible for our convening, four originally come from Colombia, Ghana, South Korea and Sweden. Since we are a research institute and not an advocacy organization, we strive to include on our panels not just people who will support a proposition but people who we know will disagree. One of them this June was Hardeep Singh Puri, the refreshingly outspoken UN Ambassador for India, who participated on a panel discussing the responsibility to protect principle after having made it clear in the Security Council that his country had serious questions about its application to Libya.
Surprised that day to find that the session was on the record, he announced, "Let me start with a confession; I was conned into participation in this meeting." Not missing a step, he went on, "So I think I'm at a disadvantage, but I'm going to have some fun, okay?" A characteristically robust colloquy followed.
In the cases of high-level name guests who need a confidential setting to speak freely, we set up small off-the-record dinners the night before their public IPI appearances, with invitees including Security Council permanent representatives, selected General Assembly ambassadors and members of the UN leadership.
We did that, for instance, last summer when Saeb Erakat, the Palestinian Chief Negotiator, and Dan Meridor, Israel's Deputy Prime Minister, appeared here when public contact between Israelis and Palestinians was severely limited.
I attended both the confidential dinner and the heavily subscribed public program the next day, and I was pleased to discover that there was little difference in what the two men said in private and what they felt willing to say to our audience.
Which takes me back to Terje's notion: build a place for straight talking in the UN community, and they will come.