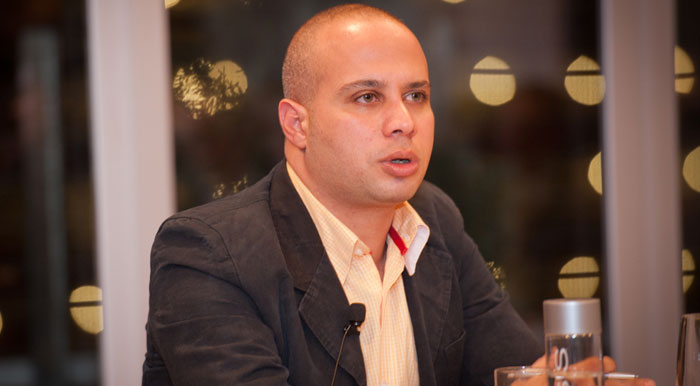 Speaking the evening before the largest protests in Tahrir Square since February were to occur, Ahmed Maher, Founder and General Coordinator of the Egyptian April 6th Youth Movement, praised the Egyptian revolution but warned against exaggerating the degree of change it has achieved. "I think there is change in democracy and freedom of speech, but not the change that we dreamed about, about total freedom of speech, about no controlling of the newspapers and media."
Mr. Maher added that the most important thing going forward is to prevent military rule in Egypt, terming it "very dangerous."
"I think the revolution didn't finish yet," he said at the Beyond the Headlines IPI event on November 17th. "We must keep the spirit of the revolution until real change will happen." He recalled that initially, "Egyptians joined demonstrations on 25th January and 28th January for three main reasons—freedom, dignity, and social justice." These, he said, are "the three main priorities of Egyptians."
Commenting on upcoming elections, he said, "The next parliament will be better than 2005, but not ideal. Not the parliament that we dream about." If the Muslim Brotherhood and other Islamist groups won, Mr. Maher said that these groups could be negotiated with, and would be judged on their performance, with the possibility of being voted out in the next elections. That option, however, does not exist with military rule, he said.
Recounting that he had been arrested many times since 2005, Mr. Maher, along with other bloggers and activists, organized Egyptian youth against the Hosni Mubarak regime, particularly using social media. "We were the first group to use Facebook and Twitter to organize political movements," he said. Their success, he believes, was because "we made the links between social demands and economic demands and political demands. It's the same issue, not three issues." The April 6th Movement subsequently helped organize the protests against Mubarak earlier this year, and it has since protested against the ruling Supreme Council of Armed Forces.
Following Mubarak's fall, Egyptians are now more politically engaged, Mr. Maher said. "Before the revolution, all the Egyptians were talking about football, talking about movies, talking about anything, but now, Egyptians are talking about politics, talking about the next parliament, talking about the next president." He said this new engagement gave cause for optimism in the future, as it meant that it would be difficult for "anyone to be like Mubarak, it's very hard for any Minister of Interior to be like Habib el-Adly."
Asked about the Occupy Wall Street movement in the United States, Mr. Maher, who arrived at IPI directly from participating in the protests in downtown Manhattan, said that it was on the right track, but needed to develop a clear vision to attract more people and to exert real pressure in changing policies.
Comparing it with movements in Egypt, he said, "I think the similarity is the youth, the spirit, the hope of change."
Moderating the discussion was Nur Laiq, Senior Policy Analyst for IPI.
Watch video of event: