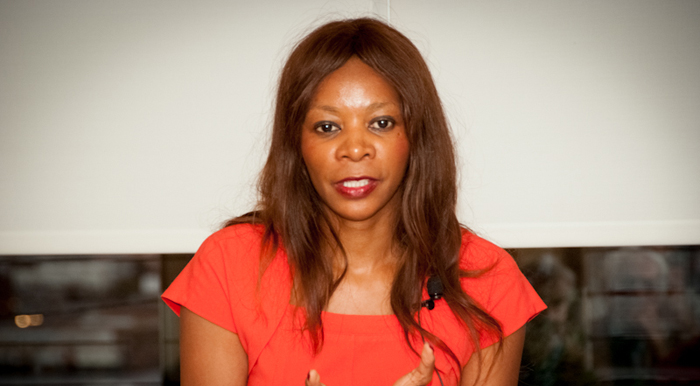 "In 2007, the PEW Institute went around to ten African countries… and they actually asked the Africans, 'What do you think of the Chinese?'" said author Dambisa Moyo during an IPI Beyond the Headlines event on September 10, 2012. "Africans that were surveyed said, 'We love the Chinese. We think they are improving our livelihoods. They are changing our lives for the better.'"
Ms. Moyo cited the survey in discussing her new  book, Winner Take All: China's Race for Resources and What It Means for the World. The book examines China's aggressive pursuit of commodities in Africa and argues that it is ultimately of benefit to Africans rather than counter to their interests, as often portrayed.
"The story here is not the way it's painted… the issue is a lot more nuanced than these headlines," said Ms. Moyo, in reference to the negative press surrounding Chinese involvement in Africa. "Africa is the one continent where there is a lot more misinformation about what the Chinese are doing there. I think it is quite unfair, because [African] economies do need [Chinese] investment very desperately."
In her presentation, Ms. Moyo disputed allegations that Chinese investments in Africa replace African workers with Chinese workers. "The headline that the Chinese are bringing in foreign workers and putting Africans out of work is far too simplistic," she said. "We found that in all instances, there were more Africans hired than there were Chinese. And what has tended to happen is that in the cases where there were a number of Chinese workers, a lot of them came with technical skills that perhaps were missing."
Ms. Moyo explained that there are basically two contrasting models in which countries may pursue development: "One is democratic with private capitalism (US), the other is nondemocratic with state capitalism (China), and they have the same ratio in terms of income inequality." She added, "From the perspective of the emerging world… they're looking at this and saying, which model should we pursue?"
"For over 50 years, many countries have leaned towards the western model of economic development and political infrastructure. However, in terms of delivery of the reduction of poverty and also sustainable economic growth, clearly the Chinese story has some appeal."
Ms. Moyo was born and raised in Zambia. She attended primary, secondary, and tertiary schools there before leaving to pursue master's degrees at Harvard and American University and a doctorate in economics at Oxford. Her previous much commented-upon books are Dead Aid (2009) and How the West Was Lost (2011).
According to Ms. Moyo, the main difference between the Chinese and American approaches to Africa is that China has treated Africa as a trading partner, while the US has approached Africa as a donor.
"The United States knows that Africa needs investment, desperately," she said." And if the United States really cares about Africa, they should actually start to engage with Africans as equal partners. They need to invest in the African continent and not just write checks out of pity…You want people to invest in you, to bet on you, not to feel sorry for you."
She added, "It's a misapplication of great resources to point fingers at China and almost scare them out of the African continent. Instead, we should use those energies to highlight the inadequacies and failures of [African] governments."
The event was moderated by Warren Hoge, IPI Senior Adviser for External Relations.
Watch event video: