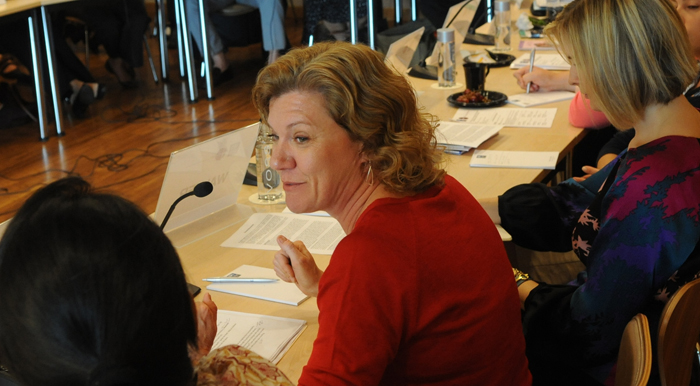 On September 19, 2012, the UN Security Council called on member states to bring armed actors who are violating children's rights to justice. This call to end impunity was one of the key conclusions of a roundtable discussion held at the International Peace Institute and co-organized with Watchlist on Children and Armed Conflict on September 17th, just two days before the adoption of Resolution 2068 on children and armed conflict.
This roundtable, entitled "Voices From the Field: Protecting Children From Conflict and Strengthening Accountability of Armed Actors," was attended by approximately 50 participants from UN member states, UN departments and agencies, child protection NGOs, and academic institutions. Held under the Chatham House rule of nonattribution, the discussion aimed to bridge the perspectives of New York–based global policymakers with those of Watchlist's grassroots partner organizations from Colombia, the Democratic Republic of the Congo, and Nepal.
The event produced four key messages for child protection actors and policymakers:
1. The Monitoring and Reporting Mechanism (MRM) established by the Security Council in 2005 has become a fundamental framework for organizations working to protect children in the field. It allows local NGOs to strengthen their capacities, document violations of children's rights, and structure local advocacy work while amplifying local voices at the global level.
2. Serious shortcomings remain when it comes to addressing the impunity of armed actors who are violating children's rights. Member states, particularly Security Council members, must be firmer on the question of accountability. Existing tools to put an end to violations need to be strengthened, but national judicial systems and international justice mechanisms also need to be reinforced.
3. Children should receive equal levels of protection regardless of the "type" of group perpetrating violations against them. The MRM has had limited success when it comes to engaging nonstate armed groups. To remove the obstacles to negotiating with these groups to end violations, alternatives to action plans and a more pragmatic interpretation of the type of armed actors included in the MRM might be needed.
4. Action plans—the MRM's central tool for committing parties to a conflict to stop violating children's rights—need to be more transparent. Publicizing a plan's content after it has been signed would make it easier for local actors to hold perpetrators accountable to their commitments.

Download this text as a meeting brief
Related materials:


Global Observatory Analysis