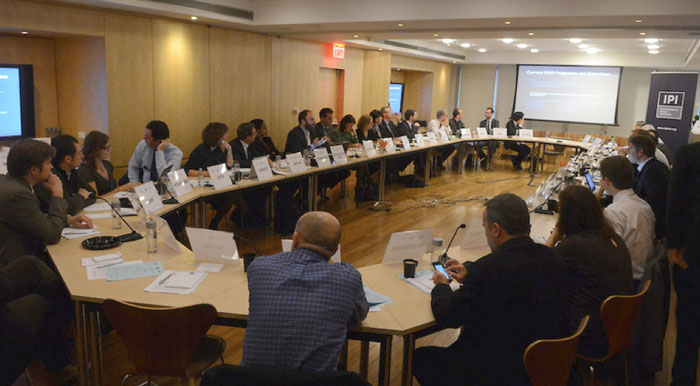 Strategic coordination and flexible funding of security-sector reform (SSR); disarmament, demobilization, and reintegration (DDR); and administrative and social services can help prevent relapses into armed conflict. This was the main conclusion of a roundtable discussion held at IPI and co-organized with the UN Peacebuilding Support Office on November 29, 2012. Independent experts presented three thematic reviews of interventions across the UN Peacebuilding Fund's (PBF) global portfolio. Partners and stakeholders focused on the cases of Guinea, Liberia, and Sierra Leone.
During the roundtable, participants highlighted a number of lessons for peacebuilding interventions:
1. The Peacebuilding Fund should play a role in setting strategic, holistic frameworks. Policy documents that linked resources to needs and set benchmarks for meeting objectives contributed to achieving peacebuilding goals. Guinea's biometric census of the armed forces, for example, gathered data essential for improved management of the armed forces. Similarly, SSR funding for "hardware" infrastructure projects was successful when coupled with "software" investments in training, oversight, community outreach, communication, and human rights. In addition, integrating national dialogues with security-sector reform contributed to reconciliation. Such dialogues allowed women's voices to be heard while enabling planners to design well-informed interventions.
2. Social and administrative services can provide tangible peace dividends by bridging humanitarian and development efforts. In Sierra Leone, access to free education and mental health services helped restore a sense of normalcy for those suffering from the effects of war. In Liberia, reformation of the national education curriculum reoriented a post-war culture of violence toward peace. Provision of services can help address inequities that fuel grievances, demonstrate responsiveness, and build state legitimacy.
3. By offering flexible funding, the Peacebuilding Fund can address short-term DDR and SSR needs while helping to tackle long-term challenges. The PBF offers advantages as a fund through its Immediate Response Facility, which can respond quickly to unexpected developments. As short-term DDR and SSR needs are addressed, the Peacebuilding and Recovery Facility can begin to address longer-term issues and local actors can focus on more complex problems, as demonstrated by the security sector's present work on maritime regulation in Sierra Leone.
4. Peacebuilding Fund interventions in the security sector should contribute to a local peacebuilding architecture that is sensitive to local context. Ambitious SSR initiatives can fail if planners have a limited understanding of the fractured security sectors they are trying to reform. Interventions should be modest and offer technical knowledge while taking local history and context into account