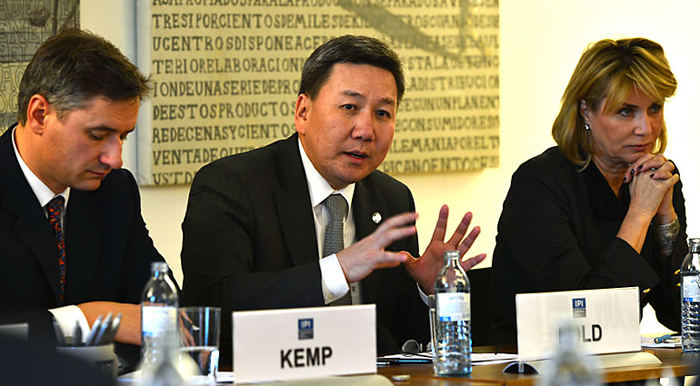 The Foreign Minister of Mongolia, Luvsanvandan Bold, visited IPI's Vienna office on February 28th. He spoke about Mongolia's rapid development over the past generation. Since 1990, Mongolia has transformed from totalitarianism to democracy, and has become one of the fastest growing economies in the world due to its mineral wealth.
The foreign minister noted the challenges that Mongolia has faced during its period of transformation. Quoting Genghis Khan, he said, "Conquering the world on horseback is easy; it is dismounting and governing that is hard." He said his country is committed to following a democratic path, and is proud to be chairing the Community of Democracies. The 7th Ministerial Meeting of the Community of Democracies will be held in Ulaanbaatar on April 29th–"the biggest international event ever to be hosted in Mongolia," according to the minister.
In the discussion session—participants included the Organization for Security and Co-operation in Europe (OSCE) Secretary-General Lamberto Zannier and several ambassadors from OSCE participating states—the minister was asked about what steps Mongolia is taking to promote sustainable development and to prevent a "resource curse." He noted the importance of transparency, accountability, freedom of the media, reducing inequality, as well as the creation of a sovereign wealth fund.
Since Mongolia recently joined the OSCE, which is based in Vienna, the discussion touched on what the OSCE can offer Mongolia, and vice versa. It was also discussed how the OSCE could be made more visible to the people, particularly the youth.
The minister answered questions about Mongolia's relations with its two neighbours, China and Russia, as well as its "third neighbor" policy. He described political and economic relations with Asia and Europe, including his country's hope to soon sign a Partnership and Cooperation Agreement with the European Union.
He stressed the need for "helping hands," noting that Mongolia appreciates the support it has enjoyed during its process of democratic transition, and now wants to help other countries like Myanmar and Kyrgyzstan inter alia through its International Cooperation Fund. "We do not want to teach, we want to share our experiences," said Mr. Bold.
The minister noted Mongolia's good relations with both North and South Korea, and expressed his hope that Mongolia could contribute to stabilizing the situation on the Korean peninsula.
The International Peace Institute will be signing a memorandum of understanding with Mongolia this spring that will enable a long-term strategic partnership.