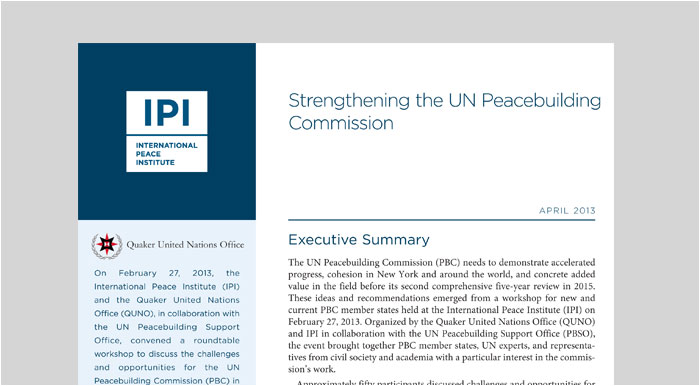 This meeting note summarizes the ideas and suggestions that arose during a roundtable workshop held on February 27th, 2013. Co-organized by IPI and the Quaker United Nations Office (QUNO) in collaboration with the UN Peacebuilding Support Office (PBSO), the workshop discussed the challenges and opportunities for the UN Peacebuilding Commission (PBC) in accompanying countries through transition and peacebuilding processes after conflict. The meeting brought together PBC member states, UN experts, and representatives from civil society and academia with a particular interest in the commission's work.
The meeting yielded the following insights and recommendations for the PBC and its member states:
• Speak with one voice: More cohesion at UN headquarters and in capitals is needed to ensure that PBC members can build trust between national governments and UN actors.
• Engage with civil society: To maximize its impact in building sustainable peace, the PBC should balance its state-centric approach with increased engagement with citizens, civil society organizations, and other actors on the ground.
• Facilitate inclusive reconciliation: In listening to local voices and civil society driven processes, PBC members can better understand the history of violence and its impact.
• Demonstrate added value: Members can mobilize resources to fill funding gaps, share their experiences of peacebuilding in their own countries, and increase political will through enhanced coordination.