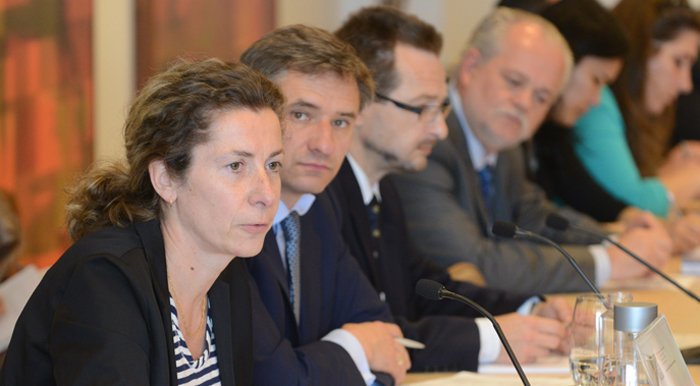 IPI hosted a meeting in New York on June 5 to examine the role of the Organization for Security and Cooperation in Europe (OSCE) as a regional arrangement of the United Nations under Chapter VIII of the UN Charter. The meeting, chaired by IPI's Director for Europe and Central Asia Walter Kemp, featured the two ambassadors who will be guiding Switzerland's chairmanship of the OSCE in 2014: Heidi Grau, head of Switzerland's OSCE Chairmanship Task Force in Bern; and Thomas Greminger, who will chair the OSCE Permanent Council in Vienna.
With 57 participating states, the OSCE is the world's largest regional organization, covering an area stretching from Vancouver to Vladivostok. In 2014, Switzerland will be the first country to chair the OSCE for the second time. In another unprecedented move, Switzerland will work closely with Serbia – which will have the chairmanship in 2015 – in order to share the burden and enable continuity.
At the meeting, Ambassador Greminger described the OSCE's structures and activities. He focused in particular on interfaces between the OSCE and the UN, both in terms of geographic areas (such as the Caucasus and Central Asia), as well a thematic ones (such as conflict prevention and mediation, transnational threats, and the so-called "human dimension").
Ambassdor Grau outlined some of the priorities of Switzerland's in-coming chairmanship, including mediation (particularly in relation to settlement processes in Georgia, Moldova, and between Armenia and Azerbaijan), arms control, and confidence-building measures, as well as the "Helsinki+40" process which is trying to reform the OSCE in the build-up to the anniversary of the Helsinki Final Act, which was signed in 1975.
In a question-and-answer session, a number of issues were raised, including the OSCE's cooperation with Afghanistan and countries of North Africa, the challenge of generating political will and building consensus, cyber security, the future of OSCE field operations, and the potential for sharing the OSCE's experience–for example, on national minority issues–with other regional organizations.