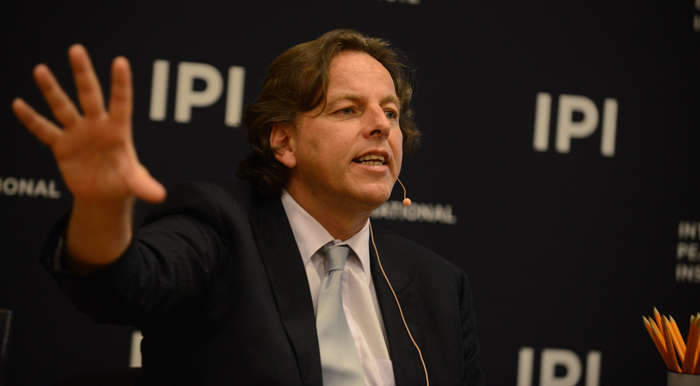 "Every conflict situation is specific and complex," said Bert Koenders, Special Representative of the Secretary-General (SRSG) and Head of the UN Multidimensional Integrated Stabilization Mission in Mali (MINUSMA), during an October 17th event at the International Peace Institute. "And for us as the international community," he said, "we have to [maintain] a position of humility, realizing that only Malians can create their own solutions."
Mr. Koenders has had more than 25 years' experience in international affairs, and was SRSG and head of the UN operation in Côte d'Ivoire directly prior to heading up MINUSMA. He explained that Mali has swung between extremes within the international community. "Mali was the donor darling, and democracy was perfect and all that… and then after the crisis everybody said, well, this is a disaster."
Recently, Mali has been going through a violent transition that has attracted the world's attention. In less than two years, the country has experienced a coup d'état, an occupation of a substantial part of the country first by separatist Tuareg rebels and then by al-Qaeda linked armed groups and Jihadists, and a French military intervention.
Mr. Koenders said that before going to Mali, he was told it would be impossible to hold elections, and that no agreement could be reached with armed groups in the north. But both notions turned out to be wrong. A presidential election held without major incident and the Ouagadougou agreement are two major achievements of the last few months, he explained, referring to the peace agreement signed in Ouagadougou, the capital of neighboring Burkina Faso, between the government and Tuareg Rebels that ended nearly 18 months of armed conflict in Mali.
"Some would say, 'Elections are okay. There is a reasonable peace agreement. Let's go on to the next crisis.' That would be intrinsically wrong," Mr. Koenders said, and added that there is still much to be done.
He argued that the deep-rooted issues in Mali spring from its geography, ecology, and demography.
Located in the Sahel, Mali borders on seven other countries, all dealing with issues of extremism, Mr. Koenders said. He went on to explain that Mali has become a common throughway for transnational organized crime, including the trafficking of people and narcotics coming from South America and elsewhere up into Europe.
"The region is complex: There is Algeria, Libya, Morocco, Mauritania, Niger, etc.—these are countries that have two choices," he said. "Either cooperation or competition."
Mr. Koenders also spoke on ecological factors that challenge stability in Mali. He said there is a rift in terms of cultural development and mentality between the relatively verdant south where most people live, and the northern arid part, which, though scarcely populated, takes up over two thirds of the country's land mass.
On demographics, Mr. Koenders noted that the average birthrate is 7.1 children per woman, and said that sexual and reproductive rights are extremely low by international comparisons.
After outlining these challenges, the MINUSMA head noted the need to prioritize. "In any peacekeeping mission, setting priorities is crucial. You have to find balance between firmness and humility," he said. "All foreign-imposed solutions haven't worked and will never work. That's the humility part of it."
Mr. Koenders said MINUSMA had to be firm on security and human interests, however. "Human security remains our first and foremost task," he said. "The country has come far. It's very poor. It has a rich culture. It has a capacity to overcome its problems. But we are still far from success."
Read the Global Observatory interview with Bert Koenders>>
Watch event: