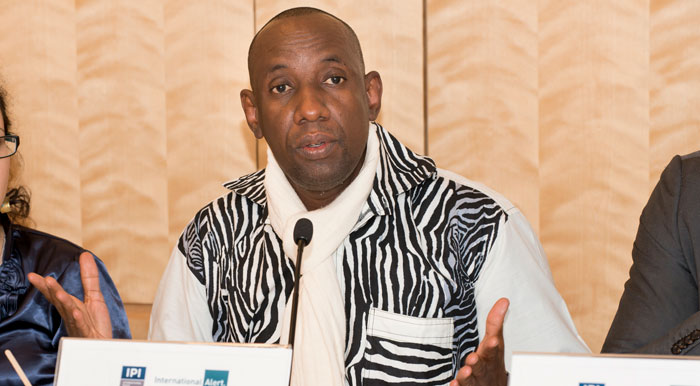 On October 8th, IPI, in cooperation with International Alert (IA), organized two roundtable discussions in New York to analyze the impact of organized crime on the political economy in Mali and to assess options for a comprehensive response by the international community.
As part of IPI's "Peace without Crime" project, both a public roundtable and a follow-up closed-door expert session brought together officials from member states, the United Nations Secretariat, policy-makers, researchers and multi-disciplinary practitioners to discuss implications and operational options in Mali and the broader Sahel-Sahara region. As part of this project, IPI already published a guide on "Spotting the Spoilers" and a report entitled "The Elephant in the Room: How Can Peace Operations Deal with Organized Crime?" and recently conducted a field assessment mission to Mali.
The public panel discussed the factors that increased Mali's vulnerability to organized crime. These included external factors such as those related to the civil war in Algeria; the more recent influx of money from cocaine trafficking through West Africa; instability in Southern Libya; as well as internal factors related to political and security governance, and weak state authority in the north of the country.
The impact of organized crime was also discussed, including the dangers of money from trafficking buying political advantage in upcoming legislative elections; links between criminal, insurgent, and terrorist groups; the attraction of criminal activity to unemployed youth; and the threat of a spillover to neighboring countries.
During the expert roundtable, IPI staff and Mr. Boubacar Ba (UNDP Provincial Governance Strengthening Programme, Bamako) reported on current developments on the ground, including future perspectives with newly elected President Ibrahim Boubacar Keïta (IBK) and the ongoing negotiations process with groups in the north of the country.
Participants observed that rather than pursing individual criminal actors, good governance and an incentive-based approach to economic transformation need to be at the core of a comprehensive approach. Instead of eradication or containment policies, which disregard the importance of livelihoods which often depend on the illicit economy and risk shifting the problem beyond national borders while corrupting officials, a long-term transformation strategy with specific policy tools would provide the most viable option.
Operational activities, including DDR, must take into account the social power of criminal groups. They also need to be firmly embedded in a strategic vision that fosters national capacity-building and expertise, while securing a political settlement in the long run. This is in particular a challenge for the UN, which is faced with a host government that has lost significant sovereign powers as a result of the crisis.
Representatives from the UN Department of Peacekeeping Operations (DPKO) and Department of Political Affairs (DPA), and peace mission veterans, including former DPKO head Jean-Marie Guéhenno and former UNMIL SRSG Ellen Margrethe Løj, discussed lessons learned in regards to organized crime from missions in Kosovo, East Timor, and Haiti, conscious of the significant differences in these mandates and the specific contexts.
It was noted that as the United Nations Multidimensional Integrated Stabilization Mission in Mali (MINUSMA) gradually builds up its operational capability, the need to include appropriate political and economical analysis and information/intelligence gathering capacity within the mission will be essential to better understand and start addressing the "serious threats posed by transnational organized crime in the Sahel region" as expressed in UN Security Council Resolution 2100 (2013) authorizing MINUSMA. The challenges for the UN in gathering and exchanging information/intelligence were raised, as well as the operational difficulties for the UN to deal with criminal groups.
The need for a regional response to address the trans-national problem of trafficking (drugs, cigarettes, weapons, and people) was examined. Since organized crime does not know any borders, efforts to tackle it need to involve countries of supply and demand, and not only transit. IPI remains committed to support the peace building process in Mali and beyond by providing its expertise and facilitating meetings in order to develop tangible policy options as part of a comprehensive response to transnational organized crime in fragile states.
As part of the "Peace without Crime" project and as a follow-up to the mission to Mali and round-tables in New York on October 8th, IPI will issue a report on the political economy of illicit activities in Mali, as well as observations and recommendations for possible remedial action.