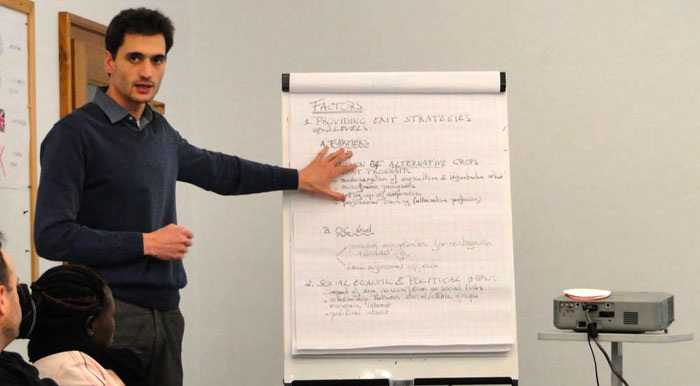 Organized crime has evolved dramatically over the past decades, and there are insufficient tools and training to enable members of peace operations to properly assess and respond to these threats. To address this shortcoming, IPI developed and implemented a two-week pilot course—the first of its kind—on how to cope with organized crime as a spoiler for lasting peace.
Held December 1-12th at the Peace Castle in Stadtschlaining, Austria, the event attracted twenty participants from seventeen different countries, including operations planning experts, law-enforcement specialists, and non-governmental practitioners, who took part in this specialized training course, which was run as part of IPI's Peace without Crime project (funded by Norway and Switzerland) together with the Austrian Studies Centre for Peace and Conflict Resolution (ASPR).
Based on lessons learned from IPI's report entitled "The Elephant in the Room: How Can Peace Operations Deal with Organized Crime?" (2013), as well as a methodology outlined in the "Spotting the Spoilers" (2012) guide to carrying out organized crime threat assessments in fragile states, the participants in the training course acquired an understanding of the political economy in which illicit markets flourish; the impact of organized crime; insights into the motivation and behavior of spoilers; as well as guidance on how to reduce the risks posed by organized crime.
Conceptually, the training program aimed at providing a holistic perspective to the problem at hand–combining a variety of approaches ranging from law-enforcement to development, which the participants could subsequently apply in a realistic simulation exercise. It also highlighted practical and political dilemmas faced by practitioners dealing with this challenge in the field. For example, when and how should one tackle the problem? Should one mediate with spoilers involved in illicit activities? And what approaches can be taken when threat assessments reveal that senior officials are complicit in criminal activities?
High-ranking professionals from a variety of intelligence and law-enforcement agencies, international organizations such as the United Nations, the European Union, and the Organization for Security and Cooperation in Europe (OSCE), as well as independent analysts and experts introduced the course participants to the challenges and methods of organized crime assessments, financial intelligence and existing multilateral approaches, and specific case studies, such as Libya and Mali. They also offered practical advice, particularly on carrying out threat assessments. During a visit to Vienna, the group received briefings at the United Nations Office on Drugs and Crime (UNODC) and the OSCE.
"Since organized crime is a threat in almost every theater where there are peace operations, we hope that this course will inspire national peace training centers as well as regional and international organizations to factor organized crime into their training program," said Walter Kemp, IPI's Director for Europe and Central Asia.