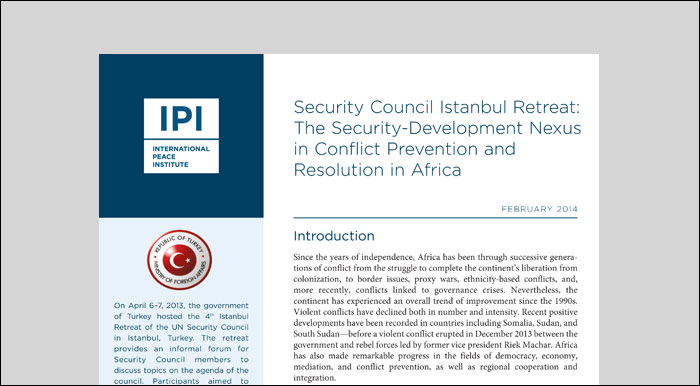 This meeting note discusses Turkey's growing role in Africa, and it surveys the many regional efforts to improve security and development on the continent. It summarizes the main points of discussion at the 4th Istanbul Retreat of the UN Security Council, which was held on April 6-7th, 2013 in Istanbul, Turkey. The retreat aimed to identify ways of addressing the challenges facing Africa from a security and development perspective.
The report argues that international efforts must seek to complement local efforts, and to illustrate this point, it presents a case study of security sector reform in Somalia. After an extended discussion of the rule of law, the report concludes by identifying the three main priorities that were underscored by the participants at the retreat:
1. The need for the further development of new peacekeeping paradigms as represented by the intervention brigade in the Democratic Republic of the Congo, and the robust support of French troops in Mali.
2. The need to increase support for national security sector reform and development programs to address the root causes of conflict and pave the way for successful exit strategies.
3. The need for further engagement by the Council on the strengthening of the rule of law.