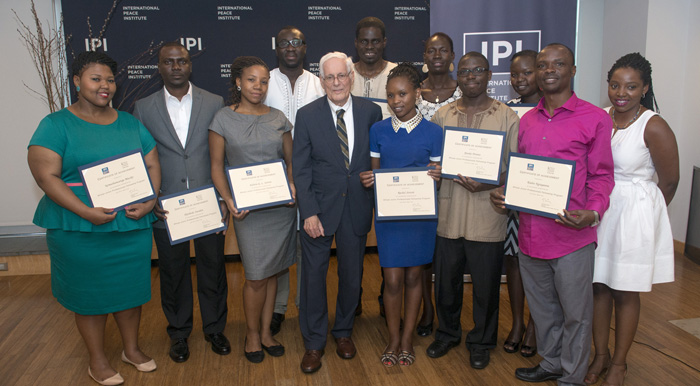 The sixth annual African Junior Professionals Fellowship Program at IPI brought ten African scholars to New York for a month-long familiarization with the United Nations and the related think tank community, from July 7-31 2014.
Under the leadership of Professor Funmi Olonisakin at King's College London and Professor Godwin Murunga at the African Leadership Centre in Nairobi, the African Junior Professionals Program, which began in 2008, has the objective of training a new generation of African men and women to work in Africa's leading security and economic organizations and universities for the continent's social and economic improvement.
In conjunction with the Conflict, Security and Development Group, King's College London, IPI has developed this annual training program to strengthen the capacity of young African professionals in addressing the continent's major development, political, and security challenges.
The ten scholars–from South Africa, Mozambique, South Sudan, Kenya, Uganda, Cameroon, Ghana, and Nigeria–brought rich experience as lawyers, activists, and academics to the program. After a year's study at King's College and/or the African Leadership Center in Nairobi, the scholars will hold internships either at the African Union, a regional economic community such as ECOWAS, a United Nations regional office, a subregional organization, or as a lecturer or associate at an African university.
As part of the IPI program, the scholars met with representatives of a number of United Nations departments such as DPA, DPKO, UNDP, UNICEF and UN Women; related think tanks, including the Conflict Prevention and Peace Forum (CPPF), the International Center for Transitional Justice (ICTJ), Security Council Report (SCR), the Quaker United Nations Office, Médecins Sans Frontières (MSF), and the Council on Foreign Relations (CFR).
The program included a focus on mediation and gender-based violence as well as the security-health nexus in dealing with polio, the Ebola virus, and other infectious diseases. The program also sought to challenge the students to consider their own roles as future leaders at continental, regional, national, or local levels in addressing the political, security and development challenges facing the continent.