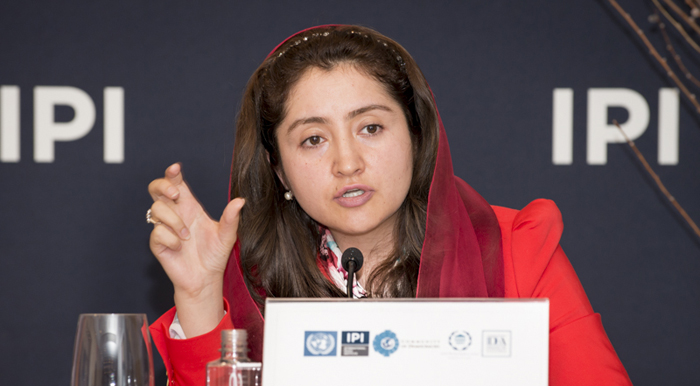 Young people around the world appear increasingly disaffected with politics and political institutions, particularly in countries where corruption is rampant and government accountability is lacking. Yet during a September 15th event commemorating the International Day of Democracy, a group of young political activists from three different continents spoke at IPI about recent gains in youth political activism and ways to encourage it.
Entitled "Engaging Young People on Democracy" and organized jointly by IPI, the UN Working Group on Democracy, the Inter-Parliamentary Union, the Community of Democracies, and International IDEA, the event also saw the participation of UN Deputy Secretary-General Jan Eliasson.
"There are alarming signs of crises of legitimacy of state institutions and of fraying social contracts between governments and citizens in far too many parts of the world," Mr. Eliasson said. "I am thinking of a specific category… the billions of young people who have no jobs, who have no future as they see it."
Youth from across the world can't trust their governments, even as they cherish the opportunity to be part of the system and have a say in public life, a member of the audience noted. The problem, he said, is that youth see many existing governments as corrupt and simply don't want to associate with them. "How can we still remain engaged in the political process without associating with corrupt governments [we] can't trust?" he asked.
The answer, one of the panelists noted, lies in the essence of politics itself and the way it affects people's lives.
"As a student… I was one of those people who never liked politics," said Farkhunda Zahra Naderi, a member of the Lower House of the Parliament of Afghanistan. "The reason you don't like it," she said, "is that deep down you care about it. That's why you don't like it."
Youth around the world, she added, need to find ways to get involved in politics despite this apparent aversion. The alternative, she said, is that their lives would risk being run and controlled by those who, unlike them, are already inside the political sphere.
"Why should you leave it? The more you leave it, the more the people who are inside the circle will be happy, because they don't want more inclusive participation."
The experiences shared by the other panelists reiterated the same point: that, despite their disaffection, young people are seeking ways to get involved in political and democratic life, regardless of the structural obstacles that bar them from doing so. In most cases, young people—who all the panelists said make up a large majority of their respective countries—try to move on after years of divisive conflicts and wars that have decreased people's trust in government.
Gustavo Arturo Martìnez Rodrìguez, a youth volunteer with the Coordinadora Intersectorial Pro Juventudes in El Salvador, spoke of the effects of his country's civil war on the political aspirations of young Salvadorans.
"When the war began in the 1980s, many youth were forced to take part in the [conflict]," he said, further heightening the feeling of distrust and hostility toward the government. Now, he added, the country has moved on and has achieved considerable progress in its reconstruction efforts.
"Some of the [post-war] objectives have been achieved, such as the demilitarization of public security, the creation of a national civil police, the creation of an attorney for the defense of human rights, and a forum for economic and social cooperation," he said. But he noted that the process has not been without its challenges, and Salvadorans continue to seek transparency, inclusion, and justice from their government.
While the history of both Afghanistan and El Salvador includes long periods of conflict that have inevitably affected the way youth perceive and think of politics, the third panelist acknowledged the important role played by social movements, such as the Arab Spring.
Hafsa Afailal, program officer at the Morocco-based Médiateur pour la Démocratie et les Droits de l'Homme, said the Arab uprisings that shook the Middle East in 2011 had a profound effect on youth political involvement across the region, though Morocco, she said, was a little different.
"Morocco has not been in a position of social or political immobility after the so-called Arab Spring," she said. "That's because since the 1990s [it had] started a reform process." This has enabled youth to play a more active role in the country's democratic process, she said. And now that they are more active in Moroccan public life, youth also want to enter government and lobby on behalf of their peers, she explained.
While acknowledging setbacks, all panelists expressed hope and optimism at the prospect of more and fairer political involvement.
"What's really important is that there is new hope for people, to work hard and believe… that we can bring positive change, that we can make it," Ms. Naderi said.
IPI Senior Adviser for External Relations Warren Hoge moderated the discussion.
Watch event: