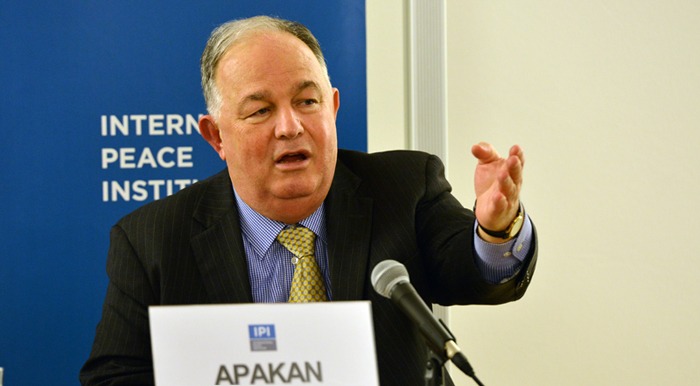 On November 3rd, IPI's Vienna office hosted Ambassador Ertugrul Apakan, Chief Monitor of the Special Monitoring Mission (SMM) of the Organization for Security and Co-operation in Europe (OSCE). Since April 14, 2014, Ambassador Apakan has led the approximately 300 international monitors from more than 40 OSCE participating states that are monitoring the fragile security situation in Ukraine, particularly in the east of the country. In an informal briefing, he described what it is like to be on the front lines of peace.
"To be present is important," he said. "To monitor is important, to report objectively and impartially is important."
Ambassador Apakan noted how the character of the SMM has changed from a political mission, to monitoring internal armed conflict, to dealing with a military crisis, to now, with the onset of winter, coping with a humanitarian crisis. He also highlighted the operational challenge of monitoring the 487-kilometer cease-fire line. "Every week we have a new chapter in our history," he said.
He explained the challenges of dealing with unexpected incidents and constantly changing circumstances, including OSCE staff being taken hostage. He also recalled his experiences of engaging in dialogue, including with local officials, businessmen, and leaders of armed groups.
Ambassador Apakan praised the support of the OSCE Secretariat, and "the collective wisdom" of OSCE participating states. He noted in particular the recent visit of OSCE ambassadors to Ukraine.
Participants discussed the impact of recent elections in Ukraine, talked about the future role of the SMM, and stressed the need for national dialogue.
Ambassador Apakan has had a distinguished diplomatic career spanning more than four decades. His senior posts include under-secretary of the Ministry of Foreign Affairs of Turkey, and permanent representative of Turkey to the United Nations in New York. He was president of the UN Security Council in September 2010 and has chaired the UN Security Council Counter-Terrorism Committee.