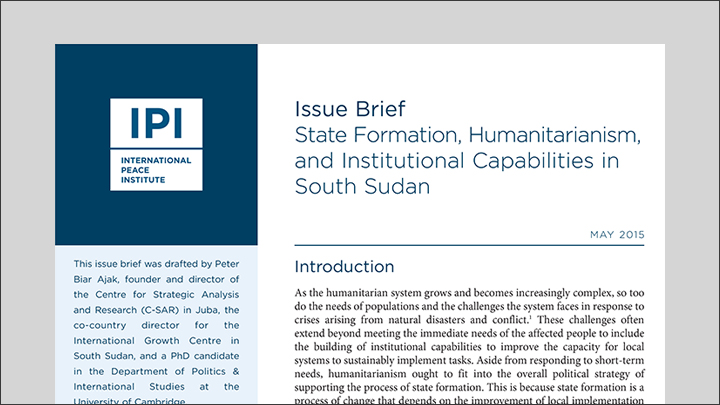 As South Sudan's fourth anniversary approaches, the fractured state teeters on the brink of a humanitarian catastrophe that has left millions in need of aid as a result of renewed fighting in the ongoing civil war. The relapse into conflict has been an enormous setback for statebuilding, curtailing efforts to ensure that humanitarian relief reaches all civilians in need of it.
Through the nexus of humanitarianism and state formation, this issue brief assesses the international humanitarian system's engagement in South Sudan during the period from statehood in July 2011 to the period immediately prior to the outbreak of the December 2013 crisis. Aside from responding to short-term needs, the author argues that humanitarianism ought to fit into the overall political strategy of supporting the process of state formation.
The report outlines the enormous needs and challenges facing South Sudan since independence, its emerging humanitarian crises, and the response of humanitarian actors and donors. It addresses South Sudan's unique challenges of state formation and the importance of linking long-term state capacity building to aid delivery.
To advance aid delivery and improve implementation capacity in South Sudan, the author offers the following recommendations:
Meaningfully involve government in the design and execution of aid projects.
Finance projects that build on existing capacities at the lower tier of administration.
Consider direct cash transfers.
Raise local salaries to attract talent into the government.
Finance public works projects.