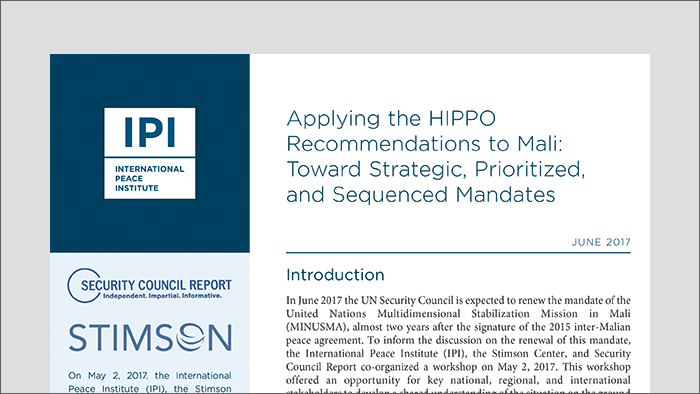 The security situation in Mali remains volatile, and violence has spread from the north to the center and south of the country. This persistent instability and spread of violence has undermined the implementation of the peace agreement, which has also suffered from low levels of trust between the signatories and a lack of ownership by the parties. These developments have implications for the political strategy of the UN Multidimensional Stabilization Mission in Mali (MINUSMA).
In light of the expected renewal of MINUSMA's mandate in June 2017, the International Peace Institute (IPI), the Stimson Center, and Security Council Report co-organized a workshop on May 2, 2017, to give member states and UN actors the opportunity to develop a shared understanding of the situation faced by the UN in Mali. This workshop was the third in a series analyzing how UN policies and the June 2015 recommendations of the High-Level Independent Panel on Peace Operations (HIPPO) can be applied to country-specific contexts.
Participants suggested that MINUSMA's renewed mandate should prioritize the restoration of state authority, local-level reconciliation, the security situation in central Mali, a flexible approach to the protection of civilians, and analysis of organized crime. They also suggested that relevant member states and stakeholders address the mismatch between MINUSMA's mandate and capacity, exercise leverage over the signatories of the peace agreement, and coordinate among various international and national security forces.
This publication is part of a project funded by ifa (Institut für Auslandsbeziehungen) with resources provided by the German federal Foreign Office.