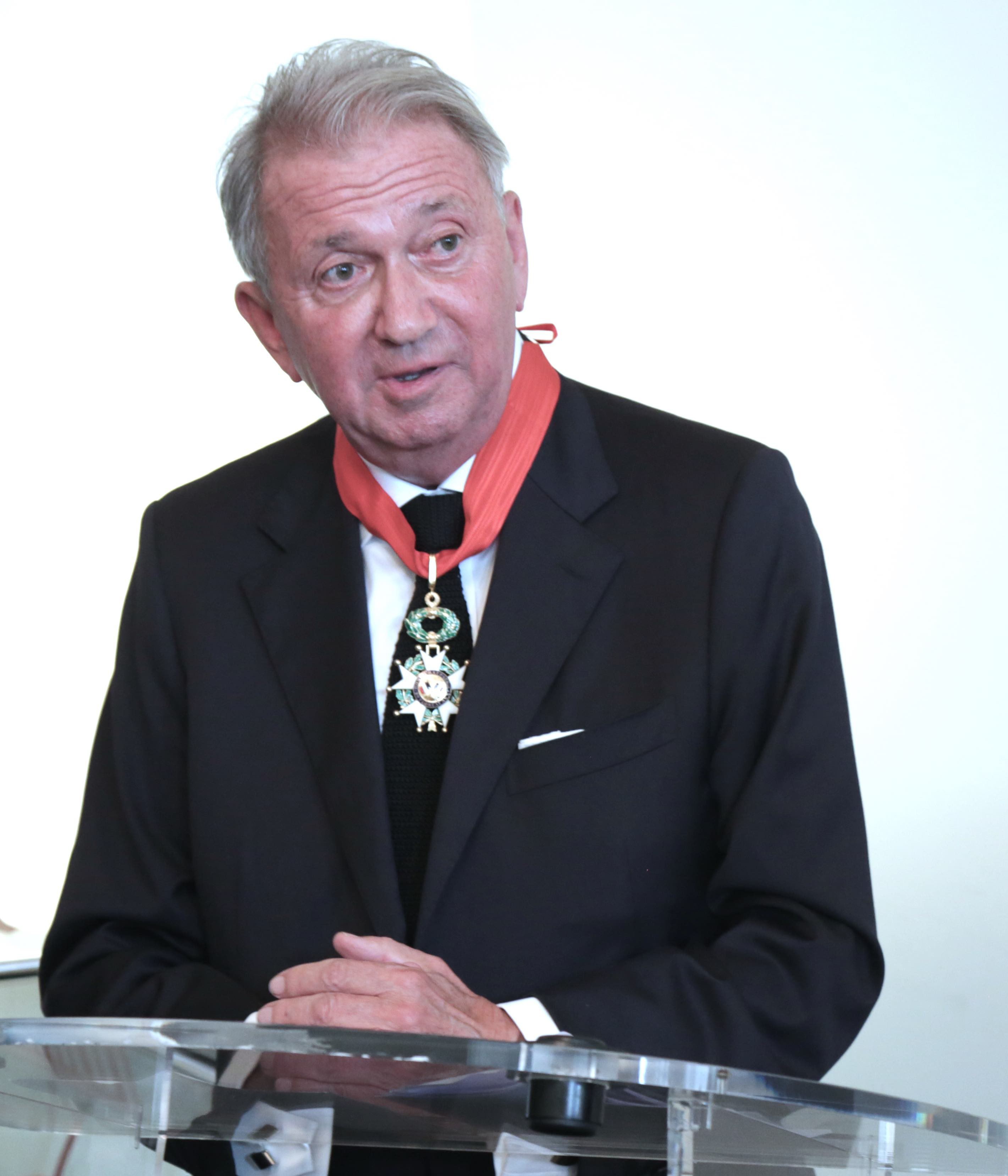 Terje Rød-Larsen, President of the International Peace Institute (IPI), was awarded the insignia of Commander of the Legion of Honor in a ceremony in Paris on Tuesday, August 29, 2017, honoring him for his more than 30 years of service to international peace and security. The award represented a promotion for Mr. Rød-Larsen, who was made Officer of the Legion of Honor in 2007 by then-President Jacques Chirac.
Jean Todt, President of the Fédération Internationale de l'Automobile (FIA) and a member of IPI's Board of Directors, hosted the event and presented Mr. Rød-Larsen with the insignia in the presence of colleagues, friends, as well as former and current diplomats and politicians. "If I had to describe you in one sentence," Mr. Todt said, "I think that it would be: 'You are what we call a man of peace.'"
"Diplomat both in action and reflection," Mr. Todt said, "your historic contribution to major successes in multilateralism have made you an emblematic figure and a role model for all persons of good will. Indeed, for more than 30 years, throughout your career, you have ensured that diplomacy prevails in conflict management."
In his remarks, Mr. Todt reviewed Mr. Rød-Larsen's career, singling out in particular his facilitation, with his wife Mona Juul, of the secret talks in Norway between Israelis and Palestinians that led to the Oslo Peace Accords of 1993. Ms. Juul, who also attended the ceremony, is now the Norwegian Ambassador to the United Kingdom.
Mr. Rød-Larsen has been the president of IPI since 2005, and Mr. Todt said, "You have made this research institution and think tank a stronghold for foresight in international relations and a universally respected forum."
Mr. Rød-Larsen's previous posts include director of the Fafo Institute for Applied Sciences in Oslo; Ambassador and Special Adviser for the Middle East peace process to the Norwegian Foreign Minister; United Nations Special Coordinator in the Occupied Territories with the rank of Under-Secretary-General; Norwegian Deputy Prime Minister and Minister for Planning and Cooperation; United Nations Special Coordinator for the Middle East Peace Process and Personal Representative of the Secretary-General to the Palestine Liberation Organization and the Palestinian Authority, and Special Envoy of the Secretary- General to Lebanon.
"You have the passion to create a bond between human beings," Mr. Todt said, "and it is a quality that shows a great openness, a great freedom of mind to which I am very sensitive, because it is a source of inspiration when one aspires to really change things."